Clearpath to Provide GE Healthcare with Self-Driving Vehicles
A fleet of OTTO self-driving vehicles will automate just-in-time parts delivery within Milwaukee facility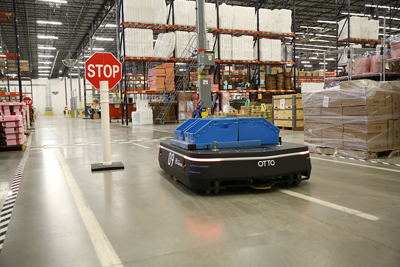 Kitchener, ON, Canada – Clearpath, the developer of OTTO - a self-driving vehicle designed exclusively for material transport - has been selected to automate just-in-time parts delivery in a GE Healthcare repair facility being expanded near Milwaukee, Wisconsin.
"The OTTO fleet will optimize GE Healthcare's just-in-time manufacturing process to help enable repair cells operate at full capacity," said Matt Rendall, chief executive officer at Clearpath Robotics.
This GE Healthcare facility is a Repair Operations Center (ROC) that repairs medical equipment, tests functionality, recycles retired equipment, manages warranty service programs, and ships qualified high quality parts to field services to maintain a high level of customer fulfillment at locations in the United States and around the world. The fleet of OTTO self-driving vehicles will be used to load and deliver parts to work cells for repair. Once restored, OTTO will dispatch materials to shipping for return to customers.
"Clearpath's OTTO self-driving vehicle and intelligent technology will help us serve our customers with speed, flexibility and accuracy, and gives us the ability to scale our operations going forward," said Patricio Espinosa, director of Repair Operations for the Americas at GE Healthcare.
OTTO enables customers to improve throughput, reduce costs, and to stay flexible with the changing needs of their material flow process. The solution provides infrastructure free navigation, obstacle avoidance, human-safe collaboration, and a payload capacity of 3000 lbs.
Customers using OTTO self-driving vehicles typically experience a return on investment in 18-24 months.
About Clearpath
Clearpath provides leading-edge self-driving products and services to over 500 of the world's most innovative brands. Proprietary hardware, software, and services are delivered through the company's industrial and research divisions: Clearpath Robotics and OTTO Motors. Visit www.clearpath.ai for more information.