Clearpath Named 2016 Edison Award Winner
Clearpath wins Silver at New York Ceremony for OTTO 1500 self-driving vehicle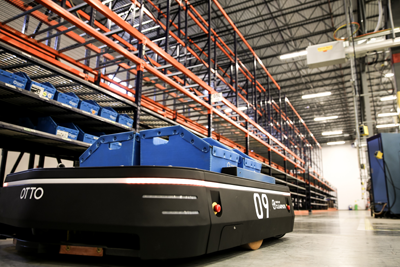 Kitchener, ON, Canada – Clearpath, provider of self-driving vehicle technology and services, was named a Silver Winner for their OTTO 1500 self-driving vehicle by the prestigious Edison Awards. The award program celebrates 29 years of honoring the best in innovation and excellence in the development of new products and services. The announcement was made at an annual award gala on April 21st at The Capitale in New York City.
"The OTTO self-driving vehicles leverage new technologies to enable factory operators with a more cost-effective, safe, and efficient method of moving materials in their facilities. We're thrilled to be named a winner and to see that the Edison Awards recognizes the potential of our OTTO solution," said Simon Drexler, Director of Industrial Solutions at Clearpath.
The ballot of nominees for the Edison Awards™ was judged by a panel of more than 3,000 leading business executives including past award winners, academics and leaders in the fields of product development, design, engineering, science and medical.
"Our judges recognized the OTTO 1500 self-driving vehicle as a true innovation out of the many products in its category," said Frank Bonafilia, Executive Director of the Edison Awards.
Being recognized with an Edison Award has become one of the highest accolades a company can receive in the name of innovation and business. The awards are named after Thomas Alva Edison (1847-1931) whose inventions, new product development methods and innovative achievements literally changed the world, garnered him 1,093 U.S. patents, and made him a household name around the world.

About Clearpath
Clearpath provides leading-edge self-driving products and services to over 500 of the world's most innovative brands. Proprietary hardware, software, and services are delivered through the company's industrial and research divisions: Clearpath Robotics and OTTO Motors.
About the Edison Awards™
The Edison Awards is a program conducted by Edison Universe, a non-profit, 501(c)(3) organization dedicated to fostering future innovators. The Awards have been recognizing and honoring the best in innovations and innovators since 1987. They honor game-changing innovations that are at the forefront of new product and service development, marketing and human-centered design, and are one of the highest accolades a company can receive in the name of successful innovation.