ChipEye 5Side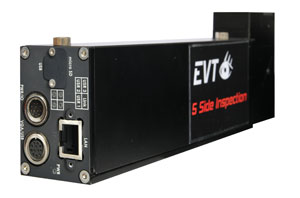 EVT presents with ChipEye 5Side the ChipControl command set with 5 side inspection as a complete system.
In addition to the software solution ChipControl, which contains a specialized command set for the inspection of various semiconductor parts, EVT now has developed the ready-to-use system ChipEye 5Side, which can be built into the machine.

Therefore one can solve a large variety of applications with the already well proven commands. Hereunto one can inspect Pin 1, coplanarity, scratches, and many more.

With the 5 sided slot in ChipEye, a component part can be captured with the camera and evaluated by the software from five different sides at the same time – top side and four flanks. The robust body of the slot and the powerful camera with resolutions from 640 x 480 to 1448 x 2050 pixel allows it to detect even the smallest defects and to measure e.g. the pin gap accurate to a micrometer.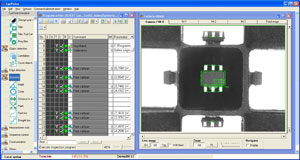 The integrated camera is available with CMOS as well as CCD sensors and is equipped with an ARM Cortex-A8 CPU with 1 GHz computing power. Additionally there are 2 digital in- and 4 digital outputs as well as a VGA-Monitor, RS232 and USB 2.0 interfaces available. Also the camera has 512 MB DDR RAM memory as well as 2 micro SD slots.
Depending on the application the function range of the software can be adapted to the task, so that e.g. a special vision sensor for coplanarity is created. This vision sensor can be purchased as a complete system under the name ChipEye Coplanarity.

This system then contains the illumination, the lens and camera and of course the software. The parametrization of the system is based on an easy drag-and-drop solution, as it is already known from the EVT EyeVision software.
Moreover the engine driver has the possibility to use an integrated WebServer to control the inspection and vernier adjustments. With the WebServer one can control and modify the parameters from any browser.
With the web-interface EVT provides the user with an easy to learn and powerful user interface, which can be easily adjusted to different languages and character sets.
Additional information about ChipEye systems and the technical data can be requested from EVT.