Checker 4G Series with Ethernet Easily Integrates into Your Factory Network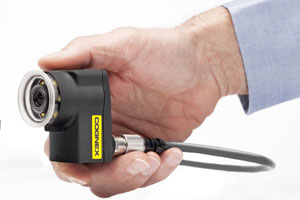 Cognex Corporation today announced the addition of the Checker® 4G Series to its award winning line of vision sensors. The new Checker 4G vision sensor by Cognex offers the same powerful and easy-to-use setup Checker is known for plus adds Ethernet networking for remote setup and monitoring, PLC communication through EtherNet/IP and PROFINET and the ability to save inspection images to an FTP server… all for less than $1,000.
Checker 4G allows the user to configure the sensor as a presence sensor or measurement sensor to inspect and error proof his manufacturing process. Presence sensors verify that features are present. Measurement sensors verify that features are the correct height, width and/or diameter. In either mode, there is no limit to the number of part features that a single Checker can "check". With patented part detection technology Checker sensors are also able to detect and inspect over 6,000 parts per minute in varying positions along the production line. No other sensor, vision sensor, or vision system can overcome imprecise part positioning while delivering consistent, precisely timed pass/fall results.
"With our new Checker 4G Series, customers can realize many of the benefits of a networked vision sensor over Ethernet including the ability to easily communicate with factory automation devices and remotely monitor and manage vision sensor activity throughout the manufacturing process," said Pascal Dorster, Vision Sensors Business Unit Manager.
The Checker 4G Series is available in both high speed and high resolution models. A full list of features includes:
Integrated lighting, optics and I/O in an Industrial IP67 housing
Remote setup and display through your PC
Patented part detection technology
Inspects multiple part features for presence or correct dimension
EtherNet/IP industrial protocol with RSLogix500™ Add-On-Profile
PROFINET industrial protocol
Image storage to FTP server
Logic for custom outputs
Up to 32 job changes
Up to 4 discrete outputs
Encoder based part tracking
Colored lens filters
The new Checker 4G Series complements the existing Checker 3G Series, which features simple USB connectivity and no PC setup with the SensorView® teach pendant. All Checker models give even a first-time user the ability to deploy an error proofing solution in a mere matter of minutes.
Checker 4G is available now.
About Cognex
Cognex Corporation designs, develops, manufactures, and markets machine vision sensors and systems, or devices that can "see." Cognex vision sensors are used in factories around the world to automate the manufacture of a wide range of items and to assure their quality. Cognex is the world's leader in the machine vision industry, having shipped more than 500,000 machine vision systems, representing over $2.5 billion in cumulative revenue, since the company's founding in 1981. In addition to its corporate headquarters in Natick, Massachusetts, Cognex also has regional offices and distributors located throughout North America, Japan, Europe, Asia, and Latin America.