Changes to Bosch Rexroth Management in the USA and the Americas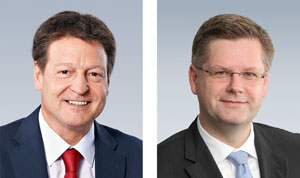 Paul Cooke new Regional President Americas and President & CEO of Bosch Rexroth Corporation U.S.
Charlotte, N.C. – Effective July 1, 2015, Paul Cooke has been appointed Regional President Americas and President & CEO of Bosch Rexroth Corporation U.S. Mr. Cooke will continue as Senior Vice President Sales within the Business Unit Industrial Applications at the headquarters in Lohr, Germany until the end of June 2015.
Paul Cooke joined Bosch Rexroth in 1982 and has served in positions of senior leadership at Bosch Rexroth in the United Kingdom and Germany, most recently as Senior Vice President Sales and Industry Sector Management for Machinery and Engineering. Cooke has over 30 years of experience in both Industrial Technology and General Management. He received his Bachelor with Honors Degree in Mechanical Engineering from The University of Newcastle upon Tyne, England.
Berend Bracht, who is currently Regional President Americas and President & CEO of Bosch Rexroth Corporation U.S. is resigning from the organization for personal reasons. "We thank Mr. Bracht for his high level of commitment in the many years of service to Bosch Rexroth. We wish him all the best for the future," said Dr. Karl Tragl, the chairman of the executive board of Bosch Rexroth. Bracht was appointed to his current role in 2006.
About Bosch Rexroth
Economical, precise, safe, and energy efficient: drive and control technology from Bosch Rexroth moves machines and systems of any size. The company bundles global application experience in the market segments of Mobile Applications, Machinery Applications and Engineering, Factory Automation, and Renewable Energies to develop innovative components as well as tailored system solutions and services. Bosch Rexroth offers its customers hydraulics, electric drives and controls, gear technology, and linear motion and assembly technology all from one source. With locations in over 80 countries, roughly 36,700 associates generated sales revenue of approximately 5.7 billion euros ($7.6 billion) in 2013.
About Bosch
The Bosch Group is a leading global supplier of technology and services. In 2013, its roughly 281,000 associates generated sales of 46.1 billion euros ($61.2 billion.) (NB: Due to a change in accounting policies, the 2013 figures can only be compared to a limited extent with the 2012 figures). Its operations are divided into four business sectors: Mobility Solutions, Industrial Technology, Consumer Goods, and Energy and Building Technology. The Bosch Group comprises Robert Bosch GmbH and its roughly 360 subsidiaries and regional companies in some 50 countries. If its sales and service partners are included, then Bosch is represented in roughly 150 countries. This worldwide development, manufacturing, and sales network is the foundation for further growth. In 2013, the Bosch Group invested some 4.5 billion euros in research and development and applied for some 5,000 patents. This is an average of 20 patents per day. The Bosch Group's products and services are designed to fascinate, and to improve the quality of life by providing solutions which are both innovative and beneficial. In this way, the company offers technology worldwide that is "Invented for life."
In the U.S., Canada and Mexico, the Bosch Group manufactures and markets automotive original equipment and aftermarket products, industrial drives and control technology, power tools, security and communication systems, packaging technology, thermotechnology, household appliances, healthcare telemedicine and software solutions.
Company Contact
Susan Strauss
Tel: (610) 694-8352