Change in the Management Board of Basler AG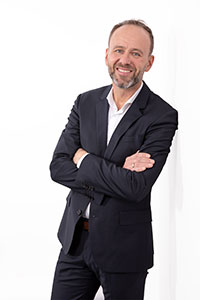 Ahrensburg - Basler AG has appointed Alexander Temme (50) to the Management Board as Chief Commercial Officer effective from January 01, 2021. After 15 years, the former CCO John Jennings asked the Supervisory Board not to renew his contract, which expired at the end of 2020. Temme has been an employee of Basler AG since 2002 and was most recently responsible for the management of global sales. In addition, he has been managing Basler AG's embedded vision components business since 2018.
Basler AG thanks John Jennings for his work as Chief Commercial Officer. With his many years of experience and great personal commitment, he has successfully managed the sales and market communication functions as well as the foreign subsidiaries during this time and, together with the entire Management Board, has continuously developed the corporate strategy. In addition to his obligation on the Management Board, John Jennings also managed the North American activities of Basler AG as Managing Director of the US subsidiary. This dual role led to a constant high level of travel activity, which Mr. Jennings would like to reduce. Thus, after leaving the Management Board, Jennings will concentrate on his role as Managing Director of the company's North American activities.
Alexander Temme will lead the company together with CEO Dr. Dietmar Ley and the board members Hardy Mehl (CFO/COO) and Arndt Bake (CMO). The Supervisory Board and the Management Board are equally delighted that John Jennings will remain with the company and that Alexander Temme will replace him as an experienced successor from within the company. The planned expansion of activities in group-wide sales and North American business can be tackled decisively and competently with these personnel changes.
About Basler
Basler is a leading international manufacturer of high-quality imaging components for computer vision applications. In addition to classic area scan and line scan cameras, lenses, frame grabbers, light modules, and software, the company offers embedded vision modules and solutions, 3D products, as well as customized products and consulting services. Basler's products are used in a variety of markets and applications, including factory automation, medical, logistics, retail, and robotics. They are characterized by high reliability, an excellent price/performance ratio, and long-term availability. Founded in 1988, the Basler Group employs around 800 people at its headquarters in Ahrensburg and other locations in Europe, Asia and North America. Thanks to its worldwide sales and service organization and cooperation with renowned partners, it offers solutions that fit for customers from a wide range of sectors.