CCS adds GigE Vision/GenICam controller to Intelligent Lighting series FASTUS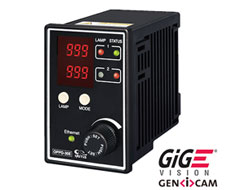 Kyoto, Japan, 31 January 2019 – FASTUS Technology from CCS, the world's leading manufacturer of LED lighting for machine vision image processing, is now available with the addition of GigE Vision/GenICam compatibility in the OPPD-30G LED Lighting Controller. With this newest addition, CCS continues to focus on delivering lighting solutions that are easily integrated within overall machine vision systems.
Using the OPPD-30G, brightness can be monitored using photodiodes built into FASTUS Light Units for accurate measurement of LED brightness even with short period illumination. This new controller also allows for monitoring the internal temperatures of FASTUS Light Units. All information is seamlessly available via GenICam for integration with Cameras, Imaging Software and diagnostic systems.
FASTUS is an ideal Intelligent Lighting solution for applications which demand minimal variance in illumination levels over time, such as image processing inspection in the Glass, Semiconductor, Pharmaceutical and Microscopy sectors.
About CCS
CCS Inc. is the global leader in LED lighting for machine vision applications, pioneering advances in Illumination and Photonics products and technologies. CCS offers a comprehensive range of machine vision lighting solutions: high-precision area and line scan illumination with special functions and intelligent lighting as well as plug & play lighting solutions.
Headquartered in Kyoto, Japan, CCS has over 25 years of experience in illumination and 15 locations worldwide. CCS manufactures the highest quality, largest selection of standard and custom products in the industry – providing the optimal lighting solution for customer applications.