Carter Control Systems Selects the ABB IRB 140 Robot as the Main Component for New ATS-R Automated Mail Tray Sleever
The second generation automated mail sleever provides the same performance at half the cost and a smaller footprint than the original model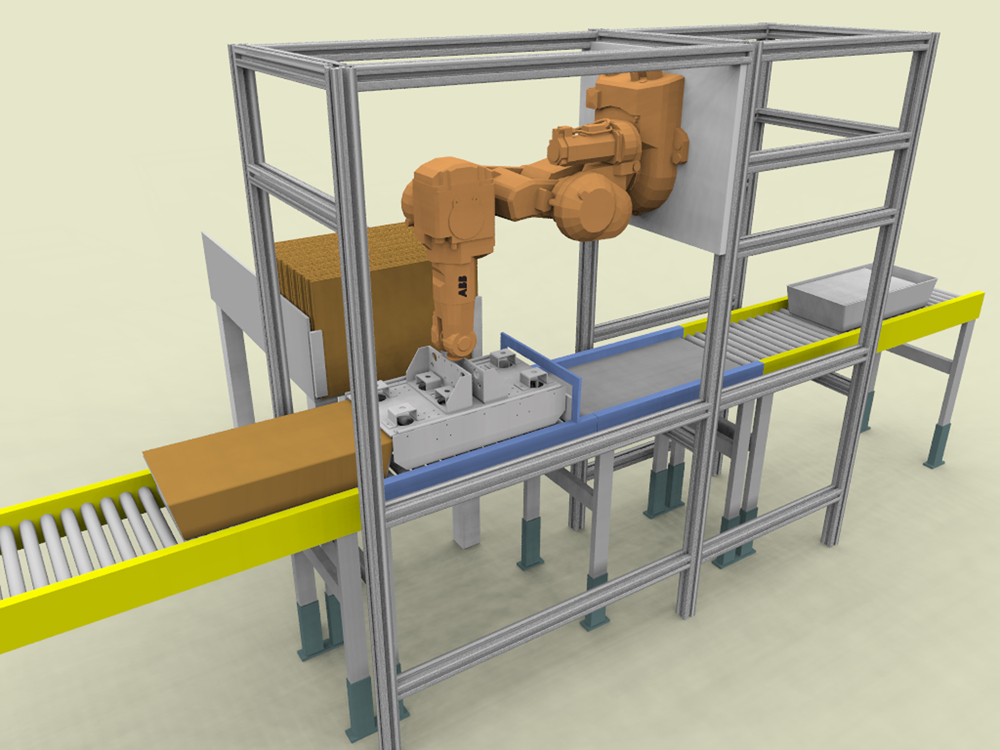 AUBURN HILLS, Mich. – Carter Control Systems (CCS) has selected the ABB IRB 140 robot for its new ATS-R automated mail tray sleever, designed for securing protective sleeves around mail trays prior to placement on outbound pallets. The ATS-R is the second generation of mail sleevers developed by CCS and the first featuring a 6-axis, articulated arm industrial robot. The original CCS automated mail sleever, the ATS-1 and -2, is a larger, more complex system that has been used by large first class mailers and the United States Postal Service for over ten years.
The ATS-R offers customers an easy-to-program system with the same throughput and reliability at half the cost and a much smaller footprint than the ATS-2. The new robotic model will utilize the same patented CCS tool that forms, places and holds the sleeve on the conveyor allowing mail trays to be inserted into the sleeve. In addition to potential upgrades at the USPS, the improved efficiencies provided by ATS-R will open automated mail tray sleever technology to a wider range of bulk mailers including direct mail houses, insurance companies, banks, healthcare billing centers, printers and credit card companies.
"We are always looking for ways to better automate functions and activities at a cheaper price for our customers, and the ATS-R reflects that goal," said CCS CEO Chris Assenmacher. "Incorporating the IRB 140 as the main operating component delivered a number of benefits that allowed the system to be scaled down and simplified without any sacrifice in performance."
The IRB 140 is ABB's second smallest 6-axis robot providing agility, accuracy and speed to applications where a smaller footprint and profile are required. With a reach of 810mm and a compact turning radius the IRB 140 is able to be invert mounted, allowing it to be installed in close proximity to the incoming mail tray conveyor. With a 6kg payload and robust design the IRB 140 is strong enough to easily handle the weight and geometry of the patented sleeve tool, and is able to operate continuously at high duty cycles.
The ATS-R will be able to handle both full- and half-trays simultaneously, with the robot being able to sense the size of the tray and access the appropriate sleeve from one of the two empty sleeve holders. The system will be able to be installed and fully operational in less than two days.
"ABB robots and technology have been involved in automated mail and postal systems for many years, but the ATS-R is the first utilizing a robot in a mail tray protection application," said Joe Campbell, vice president of the ABB Robots & Applications Group. "We feel this system will help penetrate the bulk mailing market and we look forward to working with Carter Control Systems on future innovations involving ABB robots."
ABB recently signed CCS as a new strategic system integrator in its Channel Partner Program.
About Carter Controls
For almost 30 years, Carter Control Systems has provided innovative conveyor and material handling solutions for customers throughout the United States. Today, CCS is a leading provider of automated material handling equipment and integration services to the mail/parcel, distribution, pharmaceutical/nutraceutical and food/beverage industries. CCS is headquartered in Frederick, MD.
About ABB
ABB is a leader in power and automation technologies that enable utility and industry customers to improve their performance while lowering environmental impact. The ABB Group of companies operates in around 100 countries and employs about 130,000 people.
About ABB Robotics
ABB Robotics is a leading supplier of industrial robots - also providing robot software, peripheral equipment, modular manufacturing cells and service for tasks such as welding, handling, assembly, painting and finishing, picking, packing, palletizing and machine tending. Key markets include automotive, plastics, metal fabrication, foundry, electronics, machine tools, pharmaceutical and food and beverage industries. A strong solutions focus helps manufacturers improve productivity, product quality and worker safety. ABB has installed more than 190,000 robots worldwide.