CARRIDA CAM: World's Smallest ALPR/ANPR Stand-Alone Camera System Presented at Intertraffic in Istanbul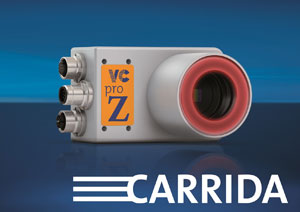 Ettlingen – At the Intertraffic exhibition in Istanbul, Turkey, embedded imaging expert Vision Components (stand 10L-5) will present what is probably world's smallest stand-alone ALPR/ANPR camera system: the CARRIDA CAM. The tiny 88 x 58 x 36 mm smart camera is based on an ARM Cortex-A9 dual core processor with Linux OS and combines the features of CARRIDA Software Engine and the VC pro Z smart camera series. Equipped with a protective housing and M12 connectors conforming to IP67 protection class, CARRIDA CAM provides optimal protection for all applications in rough environments. The stand-alone system is suited for all outdoor applications, e.g. access control, red light enforcement and toll collection. Thanks to their very low power consumption of less than 3 W CARRIDA CAM systems can be powered via photovoltaic cells to implement fully self-sufficient applications.
Included in the package is the high-performance OEM software CARRIDA which ensures very fast and precise license plate recognition with an accuracy of more than 96% even in difficult lighting conditions and with dirtied, skewed or damanged license plates. The camera integrates a heating system that prevents the formation of condensation water on the inside of the front screen. If required, additional IR illumination or external lighting, powered via the camera, can be integrated. The system also integrates a memory for black/whitelisting for parking management, access control can be carried out directly via I/O. CARRIDA CAM is equipped with 4 inputs and 4 outputs, 1 trigger input and 1 flash trigger output and features an Ethernet and a serial interface. An auto-focus module is optionally available. CARRIDA CAM can be seen in action at Vision Component's booth at the Intertraffic exhibition in Istanbul between 27 and 29 May 2015.
About Vision Components
Founded in 1996 by Michael Engel, inventor of the first intelligent camera for industrial applications, Vision Components GmbH is a leading supplier in the field of machine vision. Branches and distributors represent the Ettlingen-based company worldwide in more than 25 countries. Vision Components develops and distributes intelligent, network-compatible real-time Smart Cameras which are able to operate without a PC. These embedded vision solutions can be easily integrated into almost any machine or plant. Customers can choose between models with ARM processors and VC Linux firmware or DSP-based models with the proprietary VCRT operating system. The product portfolio includes Smart Cameras with or without a protective housing, single board cameras, and vision sensors. Vision Components also develops custom-tailored machine vision solutions for a wide range of applications. Amongst others, typical applications include quality inspection and automation. Furthermore, VC provides free software libraries for many applications including license plate recognition, motion capture, decoding, measurement, and positioning.
Company Contact
Miriam Schreiber
Tel: +49 7243 / 216 716