Camera Viewer with Direct Access to the I2C Bus of uEye Cameras
rong>The convenient and fast way to perform simple tests on image processing hardware expansions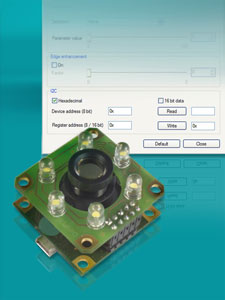 WOBURN, MA -- IDS now offers a convenient, fast and simple way to test the image processing hardware expansions for uEye camera models with I2C connections that are connected to the bus.

The "uEye Demo" camera viewer, included with all IDS USB and GigE industrial cameras, has been updated accordingly in the latest version 3.80 of the uEye camera software.

The software tool's graphical interface now offers direct access to I2C commands. This allows hardware tests to be performed independent of the software, earlier and with minimal effort.

The functionality of e.g. in-house developments such as lighting control, motors and A/D converters, can now be quickly and easily tested without programming effort.

In addition, all model-specific parameters of the camera are provided in a graphical interface in the camera viewer. Arriving at ideal settings is therefore possible without programming a single line of code, simplifying the process of incorporating the best possible parameters into the actual imaging processing application by saving them in an INI file.

For more information, please visit www.ids-imaging.com or call (781) 787-0048.

ABOUT IDS GmbH
IDS GmbH is a leading manufacturer of digital industrial cameras and frame grabbers. The company was founded by Jürgen Hartmann and Armin Vogt in 1997. Their mission then and now is to develop, manufacture and distribute industrial grade imaging components with an excellent price/performance ratio and maximum ease of use. IDS GmbH is internationally represented by a subsidiary in the USA and through a network of distributors in almost all European and Asian countries. About half of IDS employees are engineers in hardware and software development as well as applications engineering. IDS customers include OEMs, system integrators and manufacturers in the industrial, security, scientific and medical industries. Over 200,000 IDS frame grabbers and 140,000 USB and GigE uEye cameras are in use worldwide today.