Camera-to-Light Jumper Cables

Introducing the latest accessory line to the Smart Vision Lights family...The all new Camera-to-Light Jumper Cables. CTL Jumper Cables simplify the integration of most SVL single light applications by connecting the light directly to the camera. Power, ground, and NPN/PNP strobe trigger are all passed through safely and easily without having to wire the light to an external power supply. This is achieved through any 5pin M12 output connector on today's smart cameras.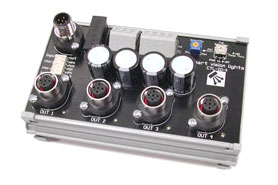 The CTL-IO-4 Break Out Board (BOB) is DIN rail mountable and simplifies the installation of multiple lights with the ability to support the most powerful LED arrays offered by Smart Vision Lights. Simply provide 24VDC & ground directly to the BOB and any of our standard 5pin M12 Jumper Cables from the strobe source or camera system. When the I/O module is connected to a strobe source or camera system the I/O board runs up to 4 lights using industry standard M12 connections. Lights draw power from the I/O module and NOT the camera. The 4 Light outputs can draw 6 amps of continuous current or 24 amps of strobe current from the I/O module. The BOB supports NPN/PNP and stores energy for high output strobing to support OverDrive Series lights.
For more information on the CTL Break Out Board, (BOB), CLICK HERE TO READ ON.


For more information about the Camera-to-Light Cables visit our website.