Camera for Robot Vision Calculates 3D Point Clouds Itself
Ensenso XR creates 3D data twice as fast thanks to on-board processing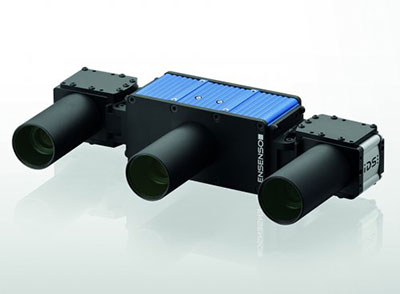 The Ensenso XR stereo camera from IDS can calculate 3D point clouds itself. Afterwards, it transmits the data via Gigabit Ethernet or WiFi to a host PC for further analysis. The advantages of the new camera series include, for example, significantly faster 3D data generation and reduced load on bandwidth and connected PCs.
Models of the Ensenso N and X series make use of an industrial computer to calculate 3D point clouds. Since Ensenso XR cameras can handle the calculations themselves and transmit only the results, 3D data can be generated twice as fast, depending on the parameterization. Another advantage of the new camera series is that if data is transmitted via WiFi, only one cable (for power supply) needs to be connected to the camera. This is an advantage, for example, if the camera is installed on a robot arm.
"Ensenso XR inherits the modular concept and precise detail capture of the X series and provides new scope through the fast capture of 3D point clouds, from which many applications will benefit," explains Dr. Martin Hennemann, Product Manager Ensenso at IDS. The camera series was officially presented for the first time at VISION 2018 based on a prototype.
The model presented at the trade show is similar in terms of field of view and resolution to the Ensenso X series with 1.3 MP sensors and can precisely detect both entire pallets and small objects. For the detection of a packed Euro pallet measuring 120 cm × 80 cm × 100 cm, the Z accuracy was just under 1 mm at a camera distance of approximately two metres. For the start of the Ensenso XR series in spring 2019, two variants with uEye CP and uEye FA industrial cameras (protection code IP65/67) with 1.6 MP and 5 MP sensors are planned.
About IDS
IDS Inc. was founded in 2007 as a subsidiary of IDS Imaging Development Systems GmbH. The industrial camera manufacturer IDS Imaging Development Systems GmbH develops high-performance, easy-to-use USB, GigE and 3D cameras with a wide spectrum of sensors and variants. The almost unlimited range of applications covers multiple non-industrial and industrial sectors in the field of equipment, plant and mechanical engineering. In addition to the successful CMOS cameras, the company expands its portfolio with vision app-based sensors and cameras. The novel image processing platform IDS NXT is freely programmable and extremely versatile.
Since its foundation in 1997 as a two-man company, IDS has developed into an independent, ISO-certified family business with more than 250 employees. The headquarters in Obersulm, Germany, is both a development and production site. With branches in the USA, Japan, South Korea and UK as well as other offices, IDS is represented internationally.