Café Camera: IDS Helps Brew Perfect Cup of Coffee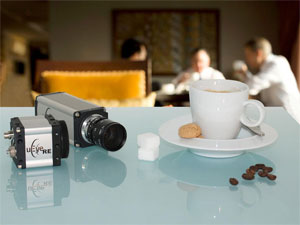 Pre-portioned coffee has become a runaway success, eliminating the need to grind coffee beans or measure out portions, flavorings and additives from large bulk containers. Simply choose a coffee type, insert a "K cup", "capsule" or "pod" into a machine, push a button... and enjoy a perfect cup of freshly brewed coffee. No mess, no waste.
How popular is pre-portioned coffee? Just last year, 1.6 billion K-Cups were sold, containing 250 different kinds of coffee, tea, and hot chocolate - everything from Newman's Own extra bold coffee to chai from Celestial Seasonings to hot cocoa by Ghirardelli.

All this convenience, however, requires that the highest quality standards be met by coffee capsule producers. Optima Group Consumer, a German manufacturer of coffee capsule filling stations, is helping its customers -- some of the largest coffee makers in the world -- make flawless cups, thanks to a leading-edge system that features machine vision quality control testing utilizing GigE and USB cameras from IDS Imaging Development Systems.
First off, the Optima system checks empty plastic capsules for frayed edges and deformations before the filling process. Any capsules damaged in transport have to be reliably detected and separated. That's the job of two ISD uEye™ UI-5220-M VGA cameras with GigE interface. Each camera monitors a conveyor belt and together can inspect up to 500 capsules per minute. The cameras are triggered by a light barrier and, in turn, control the incident light from an LED. Within less than a tenth of a second, the system detects even the slightest defection in an empty capsule and pushes it away using compressed air.
Because industrial PCs used for image processing are oftentimes located far away from the place of inspection, the camera's GigE interface has proven ideal. Supporting cable lengths up to 100 m, GigE allows for more flexible positioning of these fast CMOS cameras.
Next, specially designed metal holders convey the approved capsules in rows of eight to be feed into the filling station. Each capsule holds up to 10 grams of coffee powder, depending on the coffee type. Once an accurate amount of coffee is weighed and pressed into the capsule, it is sealed under oxygen exclusion to keep the aromatic coffee fresh for a long time.Therefore, it is critical to ensure that the membrane seal is placed accurately with no creases at the edges. In addition, the system has to check that the labeling is perfectly centered.
For these tasks, the system uses four USB monochrome cameras from IDS's RE series that feature a very rugged, dust and water proof housing. Equipped with lockable cables and a protective lens tube for the sensitive lenses, the cameras meet the demanding IP65/IP67 protection class. This ensures that no coffee dust from the filling station can enter the camera optics or electronics.
Equipped with a CMOS sensor delivering 1.3 megapixel resolution, the cameras are used for imaging two coffee capsules at a time. At throughput rates just above one second, a quick analysis of the captured images is essential. Seidenader Image Expert software uses operators from MVTec's HALCON library to check the sealing at that speed. As a result, a row of eight capsules is inspected in only 600 ms. Capsules with a defective seal can be separated immediately, so that there is no scrap at the end of line.
According to Optima, some of its competitors are still struggling with scrap rates in a two-digit percentage range -- underscoring the superior performance of the integrated inspection system. The Optima system is supplied as a complete solution including filling and inspection unit, and increases both production output and quality.
"Our system features over 20 different detail solutions that competitors don't have. From the high-precision press to the exact positioning of the coffee capsules and the integrated vacuum sealing - all of these innovations guarantee highest product quality," says Michael Wittman of Optima Group Consumer.
Regarding the choice of components, Optima's head of sales Fritz Bernhardt confirms: "We knew from the outset that we would need strong partners to realize this project - and we have found them in IDS."