Cable Harness Inspection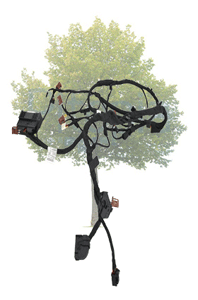 Quality control and efficient inspection of the products are nowadays more important than ever, when you want to stay one step ahead of your competitor. Therefore it is necessary to detect defects already during the production. That's especially true for the automotive industry. No matter if sub-contractor or manufacturer manufacturing errors can generate far-reaching and costly consequences and also damage the good image.

When producing an automobile, many electrical components, which have to be checked, have to be taken into account. For example each single cable harness. Especially with the increasing amount of advanced driver assistance systems of present-day cars, the cable system is getting more and more complex. To construct all safety functions one car alone could accommodate up to 120 or more electronic control units. This is some challenge for the manufacturer of cable harnesses.

The construction of a cable harness is done mostly manually. The cable harness is fixed to a form board, where it is assembled by hand. For the visual control a smart camera of the EyeCheck 1xxx series from EVT is used amongst others. This camera is already equipped with an integrated lens and illumination and therefore makes it easy to purchase an image processing system in the first step.

The EyeVision software, which runs on the smart camera, then inspects the cable harness if all components such as e.g. cutouts, relays, spouts, protection caps and interlocking devices are existent and in the right position. Additionally, it is checked if the number of cores is correct and if the color sequence is in the specified order. Because especially the wiring of the interconnected electrical systems is one of the most critical parts in a car.

In addition to the quality control during the production, it is also important to register exactly if the right cable harness is delivered to the right customer. For this there are different possibilities. One is to provide the cable harness with a bar code and sort the cables according to this bar code. Suitable for this task is a vision sensor such as the EyeSens BCR (bar code reader), which has integrated commands to read and evaluate bar codes of all kinds.

The 1/3" CMOS sensor of the EyeSens BCR is available in three different resolutions: 782 x 485, 1024 x 768 or 1280 x 1024. The camera has integrated lens and illumination and is equipped with the interfaces Ethernet and RS232 and optionally with RS422. This vision sensor reads bar codes such as 2/5 Interleaved, Code 39 as well as EAN 13, EAN 8, Code 128 etc.

Therefore EVT delivers a compact image processing system for productions with high quality standard and which guarantees efficient shipping to the customer.