C-Mount Design Barcode Imager and Smart Camera
rong>Microscan introduces a new C-Mount lens configuration for two of its products: the popular QX HAWK imager and the Vision HAWK smart camera. Both products can now be used with interchangeable lenses to address more application needs, such as high magnification and wide fields of view.

Renton, WA - Microscan, a global technology leader in barcode, machine vision and lighting solutions, has introduced a new C-Mount lens configuration for two of its products: the popular QX HAWK imager and the Vision HAWK smart camera. The QX HAWK barcode imager is ideal for industrial track and trace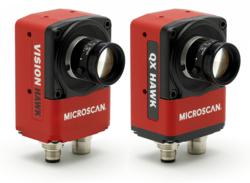 applications, with powerful algorithms for reading virtually all linear and 2D barcodes. The rugged Vision HAWK combines this decode capability with a complete vision toolset to enable a broad range of inspection and identification tasks. Both products can now be used with interchangeable lenses to address more application needs, such as high magnification and wide fields of view.

"This new right angle C-mount lens design is an important addition to our Auto ID and Machine Vision product portfolio," states Microscan Product Manager Jonathan Ludlow. "We can successfully address a wider variety of today's industrial barcode and vision applications. These are ideal cameras for applications requiring external lighting, right angle mounting in tight spaces, or fields of view that the integrated lens models don't address."

With industrial IP65/67 housing (with lens cover) and built-in Ethernet connectivity, the QX HAWK and Vision HAWK are easy to incorporate into any production environment. Their compact size and flexible configurations simplify integration. The QX HAWK imager uses Microscan's latest X-Mode decoding technology to read any 1D or 2D marked barcode, from a high density 3.3 mil Data Matrix to a very large linear code, to a low-contrast DPM. The Vision HAWK vision system features easy set-up and operation with Microscan's intuitive AutoVISION™ software interface, including powerful decode tools for reading barcodes and text (OCR), and inspection tools for cap alignment, label positioning, fill level verification, and more.
Compatible accessories include interchangeable lenses from 8mm to 75mm focal length, skylight UV and polarized filters, extension tubes, and lens housings providing IP65/67 rated protection.