Browsing function for OPC UA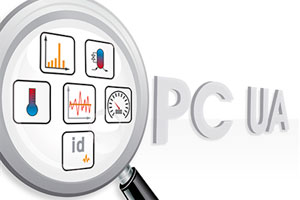 B&R develops function block for dynamic applications
B&R continues to drive the development of vendor-independent communication with OPC UA. The company has developed a PLCopen function block that makes it easy to implement dynamic applications able to utilize data from any OPC UA server.
With the browsing function block, an OPC UA client can simply browse the variables available on a controller and then add them to a subscription. This was previously only possible when the name and structure of the variables were known in advance. One of many potential uses for this new function block would be to implement dynamic HMI applications that automatically adapt to the machine. Since communication takes place via OPC UA, the whole process operates independently of which vendors are used.
Active member of the OPC Foundation
"OPC UA plays a key role in implementing fully networked factories," explains Karl Mayr, technical manager of automation software at B&R. That explains B&R's years of involvement in OPC Foundation working groups helping to advance the standard. "We're currently working on numerous other OPC UA functions that will soon be available to all users of this open communication protocol," says Mayr.
The new browsing function block allows OPC UA clients to easily determine which variables are available on a controller.
B&R company profile
As a global leader in industrial automation, B&R combines state-of-the-art technology with advanced engineering to provide customers in virtually every industry with complete solutions for machine and process automation, motion control, HMI and integrated safety technology. With industrial fieldbus communication standards like POWERLINK and openSAFETY as well as the powerful Automation Studio software development environment, B&R is constantly redefining the future of automation engineering.
B&R Industrial Automation, Inc. North America, based in Atlanta, GA, has been working closely with its customers since 1987. Since then, B&R North America has continuously grown as a sales and support organization through both direct sales offices and B&R's unique Automation Partner distribution network. Today, B&R North America has a network of more than 25 offices throughout the USA and Canada and is there for its customers locally.
Company Contact
Yvonne Eich - Marketing Communications Manager
Tel: +1 (770) 772-0400