Brochure on Automation Solutions for Photovoltaic Industry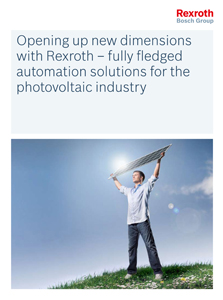 Bosch Rexroth has just released a new brochure describing its automation solutions for the photovoltaic industry. Rexroth's electric drives, controls, pneumatic, linear and assembly technology can be used throughout the manufacturing process of solar cells and modules. Rexroth's modular automation system simplifies operation, plus reduces training and maintenance times.
Rexroth helps machine manufacturers and system integrators speed up the entire engineering process through perfectly coordinated automation system interfaces.
One example is the contactless linear motion system, which carries highly sensitive solar cells through process chambers via an externally mounted linear motor, which simplifies the system design. Rexroth's TS 2pv transfer system conveys thinfilm and wafer-based solar modules without vibration.
Download our free brochure at www.boschrexroth-us.com/solar.
Bosch Rexroth AG is one of the world's leading specialists in the field of drive and control technologies. Under the Rexroth brand name, the company supplies more than 500,000 customers with tailored solutions for driving, controlling, and moving. Bosch Rexroth is a partner for Mobile Applications, Machinery Applications and Engineering, Factory Automation and Renewable Energies. The company provides customized solutions tailored to the needs and specifications of each individual market. As The Drive & Control Company, Bosch Rexroth develops, produces, and sells components and systems in over 80 countries. As part of the Bosch Group, Bosch Rexroth and its 34,900 associates generated approximately 5.1 billion euros in revenue ($6.8 billion) in 2010.

The Bosch Group is a leading global supplier of technology and services. In the areas of automotive and industrial technology, consumer goods, and building technology, some 285,000 associates generated sales of 47.3 billion euros ($62.7 billion) in fiscal 2010. The Bosch Group comprises Robert Bosch GmbH and its more than 350 subsidiaries and regional companies in over 60 countries. If its sales and service partners are included, then Bosch is represented in roughly 150 countries. This worldwide development, manufacturing, and sales network is the foundation for further growth. Bosch spent 3.8 billion euros for research and development in 2010, and applied for over 3,800 patents worldwide. With all its products and services, Bosch enhances the quality of life by providing solutions which are both innovative and beneficial.