Broadly Interconnected: VeriSens with EtherNet/IP and Visualization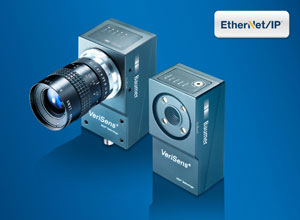 Baumer's new VeriSens EtherNet/IP gateway is the answer to the increasing demand for universal connectivity – from the 3rd quarter of 2015 onward also with EtherNet/IP, one of the world's leading real-time Ethernet systems. A standard linear network topology is supported by an included switch. The VeriSens Ethernet port remains available for visualization via configurable web interface. Alternatively this port allows efficient image saving on an FTP server which will remove load from Ethernet real-time communication in the form of high data packets of image processing. All VeriSens models of the XC, XF und ID series supporting serial communication support this technology.
EtherNet/IP is an internationally recognized industrial real-time Ethernet standard and is therefore ideal for the integration of intelligent automation components such as vision sensors. The VeriSens EtherNet/IP gateway enables efficient interconnection of up to four VeriSens vision sensors. Gateway integration is achieved by the standard EtherNet/IP EDS file.
About Baumer Group
The Baumer Group is an international leading manufacturer and developer of sensors, encoders, measuring instruments and components for automated image-processing. Baumer combines innovative technology and customer-oriented service into intelligent solutions for factory and process automation and offers a uniquely wide range of related products and technologies. With around 2,300 employees and 38 subsidiaries and in 19 countries, the family-owned company is always close to the customer. Industrial clients in many sectors gain vital advantages and measurable added value from the worldwide consistency of Baumer's high quality standards and its considerable innovative potential.
Company Contact
Nicole Marofsky - Marketing Communication
Tel: +49 (0)3528 4386 19