Broad Line of USB 3.0 Cameras in ace Series and New racer Line Scan Cameras
Ahr

ensburg - At the upcoming VISION 2012 trade show, Basler will present a wide selection of ace area scan cameras featuring a USB 3.0 interface. These new cameras are compliant with the new USB3 Vision standard, which ensures that users will enjoy reliable data transmission, greatest possible flexibility in selecting a camera and long-term safeguarding of their investment.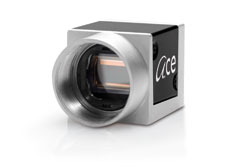 Basler will start with models with resolutions from VGA to 5 MP capturing up to 100 frames per second. These cameras will feature some CMOS sensors and some particularly popular Sony CCD sensors. Compared to the previous cameras in the ace series, Basler ace USB 3.0 cameras are even more compact and can thus readily replace FireWire and USB 2.0 cameras of similar size and construction. In addition, they have technical advantages such as the broad bandwidth and easy plug-and-play connections made possible by USB 3.0, a step which will support the replacement trend. The combination of USB 3.0 technology and the USB3 Vision standard assures long-term investment security and an easy integration into existing systems.

René von Fintel, Basler's responsible Product Manager, explains possible applications for these new models: "With their easy connections and adherence to a clear standard, Basler USB cameras are aimed at conventional industrial applications as well as areas beyond them. Such non-industrial applications include medical systems, motion analysis and microscopy. We're convinced that the USB 3.0 interface will replace most of the current FireWire and USB 2.0 cameras and establish itself, along with GigE, as the second mainstream interface."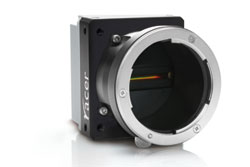 With the addition of the USB 3.0 cameras, Basler's popular ace series will have about 50 models to choose from. This means that users can select from numerous cameras with various resolutions, speeds and interfaces – all within the ace family. All Basler ace cameras, whether fitted with Gigabit Ethernet, Camera Link or the new USB 3.0 interface, provide exceptional image quality and outstanding value for money.

racer Line Scan Cameras

Basler's second VISION highlight will be new models in the racer line scan camera series which had its premiere at last year's show. The new models feature 6k, 8k, and 12k resolutions. With the new models, Basler covers the whole spectrum of standard line scan cameras and offers matching cameras for several different markets and application areas.

Basler racer cameras are available with either a Gigabit Ethernet or a Camera Link interface.
They use the latest line scan sensors based on highly sensitive CMOS technology with excellent image quality. Just as the established 2k and 4k variants, the new models will set new standards in terms of pricing.

Basler at the VISION: Hall 1, booth 1E42

Basler is a leading global manufacturer of digital cameras for industrial and video surveillance applications, medical devices, and traffic systems. Product designs are driven by industry requirements and offer easy integration, compact size, excellent image quality, and a very strong price/performance ratio. Founded in 1988, Basler has more than 20 years of experience in vision technologies and has designed and manufactured high quality digital cameras for almost 15 years. The company employs around 300 people at its headquarters in Ahrensburg, Germany, as well as in international subsidiaries and offices in the U.S., Singapore, Taiwan, and Korea.