Bringing Advanced Automation To Automotive Industry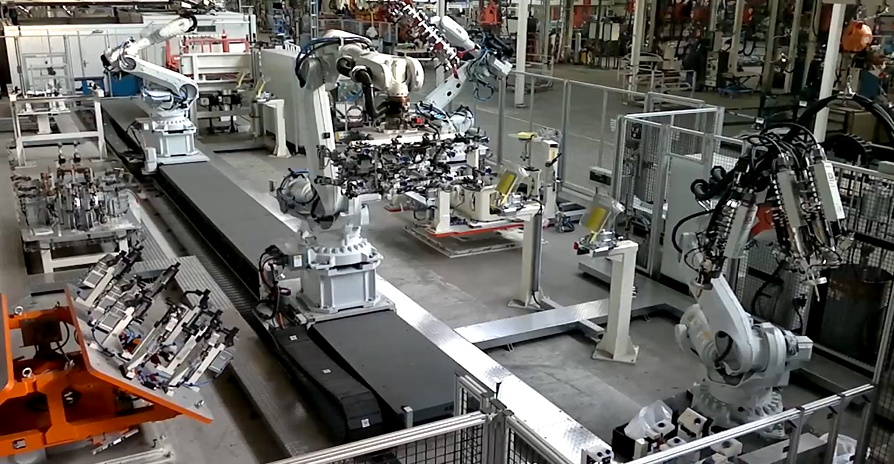 Mercedes Project. CREDIT: RobCo S.W.A.T.
Canadian robot software provider RoboDK has teamed up with automation specialists RobCo S.W.A.T. from Bulgaria to provide the world's leading automotive experts with advanced Industry 4.0 solutions.
"We're honored to partner with RobCo S.W.A.T. to provide flexible and efficient automation systems for global automotive car manufacturers such as Audi, Volkswagen, Lamborghini and Porsche," says RoboDK's co-founder and CEO, Albert Nubiola.
RoboDK offline programming and simulation software gives automation cell designers unprecedented robot simulation possibilities and supports simultaneous simulations of bespoke hardware devices alongside leading robot brands.
In a recent project for Mercedes-Benz (Daimler AG) RobCo S.W.A.T. used RoboDK software to simulate ABB and Motoman robots working on a range of automotive manufacturing tasks including assembly and painting.
"By combining Rhino and RoboDK we are able to offer high quality integration at an affordable cost," says RobCo S.W.A.T. CEO, Theodor Goergiev.
Specialists in the optimization of automotive production lines, RobCo S.W.A.T. provides the world's leading car brands with a full range of robotic services from cell design, modeling and customized hardware to software and mechanics.
The power and versatility of RoboDK software helps to support one of the pillars of RobCo S.W.A.T.'s automation strategy – simulation and programming industrial robot arms.
"We implement control systems, fluid systems, simulation software, electromechanical engineering, and six sigma management," says Goergiev. "When someone has access to these instruments for testing and configuring their automated systems, they become significantly more effective and systems can be realized much faster."
RoboDK software enables offline automation testing prior to implementation. CREDIT: RobCo S.W.A.T.
RoboDK software enables RobCo S.W.A.T.'s engineers to program robots outside the production environment.
"The ability to generate robot programs away from live production lines empowers robot engineers in several ways, from eliminating the production downtime associated with shop floor programming to providing a safe, simulated environment for testing different cell design scenarios," says RoboDK's CEO Nubiola.
With the right software tools, you don't have to be a world-class engineer to simulate and program industrial robots. For example, RoboDK software's ingenious drag-and-drop design functionality and library of fifteen robot application scenarios from robot machining to polishing, means that even end-users with no programming knowledge can set-up simulations and generate robot programs within minutes.
RoboDK's software library supports more than 500 robots from 50 manufacturers, including FANUC, Yaskawa, Universal Robots and KUKA. This gives end users the ability to configure and test automated cells in a safe environment and within the same software ecosystem.
Additionally, RoboDK software provides plugins for SolidWorks, Mastercam, Inventor, Fusion 360, FeatureCAM, MecSoft and SolidEdge.
Automotive is the main driver and largest segment of the industrial robotics sector accounting for 30% of global robot installations, according to the latest figures from the International Federation of Robotics.
RobCo S.W.A.T. Engineer Iliya Lambov using RoboDK Software. CREDIT: RobCo S.W.A.T.
Car manufacturers use industrial robots for a huge range of tasks from welding, painting and surface coating to glue dispensing, assembly and inspection, all of which can be simulated within RoboDK software.
Despite concern about the future due to COVID-19, the automotive sector and automation deals haven't stopped. In mid-April, automation giant KUKA and automotive giant BMW AG signed a framework agreement for the supply of an estimated 5,000 robots for new production lines and factories.
Meanwhile, Automotive News Europe reports that plants that had been closed due to the pandemic are already starting to reopen. This includes the Hyundai factory in the Czech Republic, which reopened on April 14 and the Volvo production plants in Sweden and Belgium, which reopened on April 20.
COVID-19 is grabbing headlines, but demographic factors operating on a much-longer timescale are driving automation adoption across the entire manufacturing sector.
In Germany, for example, it is estimated that by 2040, the labor market will be short approximately ten million people, due to demographic changes. No surprise then, that a recent survey revealed that 84 percent of German manufacturers believe that the widespread use of robot technology in medium-sized enterprises is not a question of "whether" but of "when".