Breakthrough "freeD" Sports Replay System for NBC Sunday Night Football to be Powered by Teledyne DALSA Cameras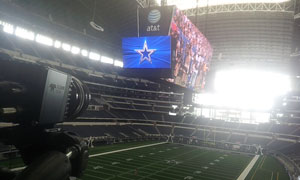 Teledyne DALSA, a subsidiary of Teledyne Technologies Incorporated (NYSE:TDY), announced that the company is partnering with Replay Technologies to provide its latest generation cameras and frame grabbers for deployment of Replay's breakthrough freeD sports replay system at AT&T Stadium (formerly Cowboys Stadium) in Arlington, TX. The freeD replay system will be featured during NBC Sunday Night Football's broadcast of the first Dallas Cowboys NFL home game versus the New York Giants on September 8th.
An advancement in digital broadcast technology, freeD (free dimensional video) made its premiere in major league sports this April on YES Network's Yankees home games – known as YESVIEW. freeD, developed by technology company Replay Technologies, records reality not as regular two dimensional video, but as a true three dimensional scene. This enables the production team, and in the near future the actual viewers, to freely roam around a captured scene where no physical camera exists.
Replay's freeD system utilizes powerful cameras and sophisticated algorithms to create three dimensional photo-realistic real-time scenes, comprised of three dimensional pixels that faithfully represent the fine details of the scene. This information is stored as a freeD database that can produce (render) any desired viewing angle from the detailed information. The freeD system was first used in 2012 at the Players Championship PGA golf event and then at the London 2012 Olympic Games gymnastics competition. The system is currently deployed at Yankee Stadium in New York and is a regular feature of Yankees home games broadcasted by the YES Network with an average of 30 second rendering time.
The freeD system at AT&T Stadium in Arlington will incorporate 24 Teledyne DALSA Falcon2 CMOS cameras. 12 cameras will be positioned around each end's red zone – the area of the field between the 20-yard line and the goal line – to provide highly detailed freeD replays during the Cowboys/Giants NFL game to be broadcast on NBC Sunday Night Football. The Falcon2 camera's 12 megapixel "4K" resolution significantly increases the image quality of the freeD system, allowing it to capture more of the action with the ability to 'go in closer' while retaining HD quality. The Falcon2 camera was selected for this system to deliver the speed and resolution required for this application. Teledyne DALSA Xcelera frame grabbers, which are optimized for the Falcon2 cameras, are being installed in the control room at AT&T Stadium to capture the camera data and to interface with the freeD system.
"Sunday Night Football is pleased to partner with the Dallas Cowboys on Replay Technologies freeD system. Being able to seamlessly move from side to side and around an entire play without switching shots will entertain and inform the fans in Cowboys stadium and the National TV audience on NBC," commented Fred Gaudelli, Producer of NBC Sunday Night Football. "Fans will think they're playing a video game or watching a Sci-Fi movie, but they'll actually be viewing real NFL football as never presented before."
"We are pleased to be partnering with Teledyne DALSA as we deploy our freeD system at AT&T Stadium and extend our reach into other professional sporting venues," said Oren Haimovitch-Yogev, co-founder and CEO of Replay Technologies Inc. "We believe that our freeD system, powered by Teledyne DALSA's 4K cameras and frame grabbers, will provide viewers of NBC Sunday Night Football and the Cowboys fans with never before seen views of action on the field."
"The freeD system has the potential to revolutionize how professional sporting events are enjoyed on television and other media," commented Patrick Myles, Vice President, Business Development and Communications, Teledyne DALSA. "We are proud to partner with Replay and provide them with our cameras and frame grabbers for AT&T Stadium and as their freeD system is adopted at venues across North America. Together, we are enabling new user experiences and levels of interactivity for the viewer with the highest possible image quality."
To see the freeD replay system in action, visit Replay's home page http://www.replay-technologies.com/. To learn how it works visit http://www.replay-technologies.com/technology.html.
About Teledyne DALSA
Teledyne DALSA, a Teledyne Technologies company, is an international leader in high performance digital imaging and semiconductors with approximately 1,000 employees worldwide, headquartered in Waterloo, Ontario, Canada. Established in 1980, the company designs, develops, manufactures and markets digital imaging products and solutions, in addition to providing MEMS products and services.
About Teledyne Technologies
Teledyne Technologies is a leading provider of sophisticated instrumentation, digital imaging products and software, aerospace and defense electronics, and engineered systems. Teledyne Technologies' operations are primarily located in the United States, Canada, the United Kingdom and Mexico.

About Replay Technologies Inc
Our vision is to power the next big revolution in video by using our proprietary freeD™ technology to create novel viewing experiences. We believe that ultimately the viewing experience of most broadcast related events, from sports to news to film, will be freed from the limitation of what had been shot by physical camera, raising both the storytelling possibilities and the user immersion possibilities to whole new levels.
We aim to disrupt the fundamental operating cost structure for broadcasting, cinema and other fields (biomedical, security, TV viewing, etc.) by implementation of the concept of placing viewing angles and un-manned cameras where none existed in reality.