Bottle Inspection with EyeVision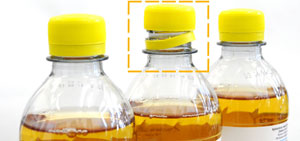 In the food production the necessity to thoroughly inspect the products constantly increases, even for cheap products. Therefore e.g. in the bottle industry there is always an application to solve no matter if it is bottle empties, label, filling level or cap inspection.

EVT offers with the latest EyeVision software version, commands, which in this field of machine vision entail innovation.

EyeVision e.g. identifies damaged and empty non-brand bottles during the fully automated return of empty bottles. This can be carried out by recognizing the bottles by means of several characteristics such as e.g. height, diameter, color or label of the bottles and therefore the system is able to discharge damaged bottles or bottles of a different type. With EyeVision an early recognition already in the empties bottle case is possible.
The cap inspection with EyeVision allows a high-precision measurement of an askew bottle cap. But EyeVision can do more than that. Starting with the presence check of the bottle cap and the inspection of the lock ring up to the inspection of the cap height, EyeVision masters every bottle cap. And this at speed of 30 bottles per second.
The EyeVision Software also proves of value in the bottling plant. For example to check if the fill level is matched by every bottle, an image of the bottle neck is captured and the fill level measured. Also before the bottling the bottle neck is checked for cracks or if its splintered.
Also the label inspection is a piece of cake for the EyeVision software, even if the labels vary not only in content type and packaging, but also in language, origin and size. The inspection is carried out in free run on the conveyor band, on any kind of bottle, totally impartial to the type and position of the label.
It is also possible to control various 3D sensors with the EyeVision software and can therefore also check the bottle cases with a 3D-system. Therefore it is possible to e.g. detect if the cases are accordingly filled with bottles. With top view it is not only possible to check if the cases are completely filled but additionally also if there are some other disturbances.
Due to the intuitive drag-and-drop programming the EyeVision software is easy to handle and therefore it is also suitable for users without programming skills.