Bot Brief Newsletter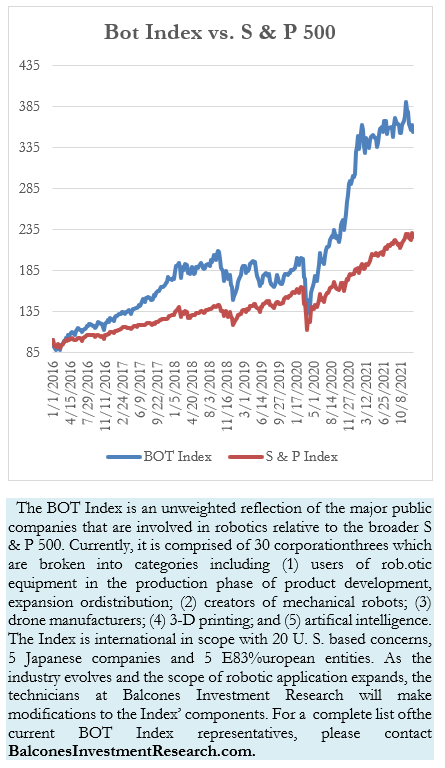 "There is no force on earth more powerful than an idea whose time has come."
- Victor Hugo
Bots in The News:
Pushed by investor concerns on the inflation, the covid variants, closure of certain countries, Fed policy and supply chain impacts upon the economy, the markets adopted a risk off strategy this week. The only real gainers in the Bot Index were the bounce-back stocks (Immersion Corp. and AeroVironment) who have had their share of recent poor performance and Northrup Grumman who benefited from a research report identifying the best defense stocks. None of those gainers, however, was sufficient to raise the Bot Index to positive territory in a week that saw the S & P 500 lose almost 2%.
Of the losers the two electric vehicle companies, NIO Ltd. and Tesla were impacted by the poor results of EV truck manufacturer Rivian Automotive. NIO, which led all losers with a 12.44% drop, was also impacted by the SEC's increasing scrutiny over NYSE listed Chinese companies, heavy competition for the China marketplace and concerns over the economic impact of the bankruptcy of Evergrande Group.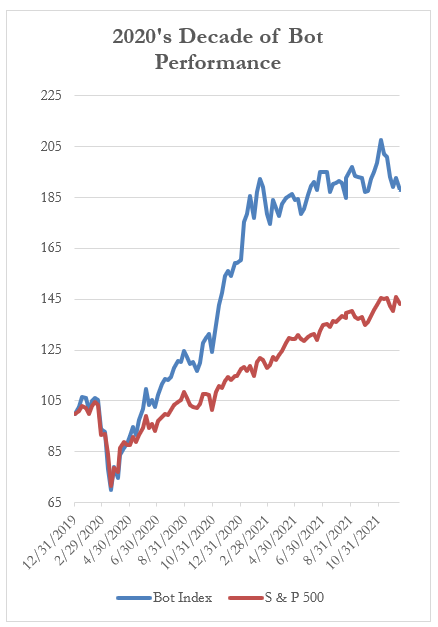 Some concern that the semiconductor chip shortage may be coming to an end in 2022, led NVIDIA Corp. downward almost 8%. That decline capped four consecutive weeks of negative returns.
The new company name for Brooks Automation, Azenta, fell 7.5% for the week, however, showed some recovery on Friday's trading. Shares traded over double their historical pattern on the last day of the week, indicating a significant buyer was picking up the cheapened shares. That could bode well for the stock next week, ceteris paribus.
Member: American Economic Association, Society of Professional Journalists, United States Press Association. Institute of Chartered Financial Analysts, Robotic Industries Association, Member IEEE.
The Bot Brief is a weekly newsletter designed for economists, investment specialists, journalists, and academicians. It receives no remuneration from any companies that may from time to time be featured in the brief and its commentaries, analysis, opinions, and research represent the subjective view of Balcones Investment Research, LLC. Due to the complex and rapidly changing nature of the subject matter, the company makes no assurances as to the absolute accuracy of material presented.