Bot Brief
"There is no force on earth more powerful than an idea whose time has come."
- Victor Hugo
Bots In the News: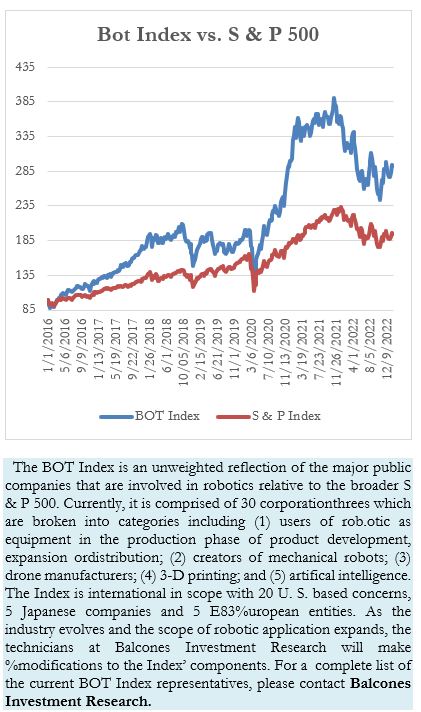 For the week, neither the Bot Index nor the S & P 500 reported much deviation from the prior week. The Bots dropped a mere 73 basis points, slightly below the 66 basis points decline recorded by the broader index. Interestingly, there were significant divergences from the reported average with six companies reporting gains or losses in excess of 5%. Tesla was the best performer of the group with its 9% increase despite relatively bad news about the company and its founder. Google (+7%) and NVIDIA Corp. (+5.56%) were subject to some 'bottom fishing'. The other notable gainers were pretty consistently among the Asian holdings.
Of the losers, by far was the 19.61% decline recorded by Faro Technologies. The company floated a $60 million convertible offering to a institutional investors. With the short maturity (2028) of the issue, investors viewed the corporate event as a dilutive agent for future earnings as well as incremental debt and related interest costs. Continuing the investor avoidance of defense manufacturers, AeroVironment fell 6.11% and Rockwell Automation declined 5.34%.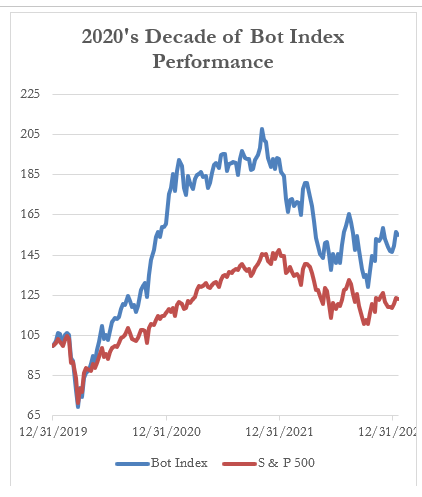 Northrup Grumman's New Missile:
With a speed that is ultimately estimated to circle the globe in around 2 hours, Northrup Grumman
unveiled its new hypersonic cruise missile. Set to be mass produced in 2027, the new tactical weapon will fly 20 times quicker that traditional cruise missiles. The $985 million contract NOC shared with Raytheon Technologies produced allowed the production of the world's first hypersonic tactical air to ground weapon. Currently flying at five times the speed of sound, more advanced versions of the 'air-breathing' scramjet engines, are expected to reach speeds of Mach 15 making them virtually indefensible.
Both Northrup and Raytheon are components of the Bot Index.
Member: American Economic Association, Society of Professional Journalists, United States Press Association. Institute of Chartered Financial Analysts, Robotic Industries Association, Member IEEE.
The Bot Brief is a weekly newsletter designed for economists, investment specialists, journalists, and academicians. It receives no remuneration from any companies that may from time to time be featured in the brief and its commentaries, analysis, opinions, and research represent the subjective view of Balcones Investment Research, LLC. Due to the complex and rapidly changing nature of the subject matter, the company makes no assurances as to the absolute accuracy of material presented.