Bosch Rexroth Updates U.S. Website with Improved Search Functionality and Navigation
rong>Bosch Rexroth updates U.S. website with new look and user experience enhancements.

Bosch Rexroth U.S. recently launched a completely redesigned website at www.boschrexroth-us.com. The new site features an updated look and feel along with improved search capabilities and navigational structure. The goal was to give distributors, customers and other visitors to the website a more user-friendly experience and easier access to Rexroth products and other company resources.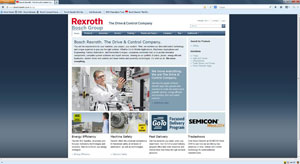 The new design features improved navigation with the addition of drop-down lists to the top-level menus, a clickable history trail, which allows visitors to backtrack anywhere along the trail, and context-based left-hand menus for deeper navigation within a specific area.

\Another important upgrade is a much improved search function. The website now features the Google search appliance to provide best-match results faster than ever before. The results can be filtered to show results from the U.S. website only, from the company's global website only or from all countries collectively. It is also possible to filter results by content type and language.

Other enhancements to the website include extensive service and training resources and a restructured product section that breaks products down into specific technology categories such as assembly, linear motion and welding, among many others. There is now a dedicated portion of the website for Rexroth's popular resource kits, featuring a library of educational material addressing engineering challenges for a variety of technical topics including factory automation, mechatronics and hydraulics.

The website features links to Rexroth's active social media accounts as well as press releases about the latest products and company news. The site will be updated regularly with the company's latest technical articles and case studies. Visitors can also view Rexroth's upcoming tradeshow schedule, and press kits from the shows will be uploaded to the site and available for download.

The new website represents a critical step in Rexroth's goal to improve its digital communications with customers and distributors. Future planned enhancements include the addition of new capabilities, such as an online eShop and My Rexroth access.

About Bosch Rexroth:
Economical, precise, safe, and energy efficient: drive and control technology from Bosch Rexroth moves machines and systems of any size. The company bundles global application experience in the market segments of Mobile Applications, Machinery Applications and Engineering, Factory Automation, and Renewable Energies to develop innovative components as well as tailored system solutions and services. Bosch Rexroth offers its customers hydraulics, electric drives and controls, gear technology, and linear motion and assembly technology all from one source. With locations in over 80 countries, more than 36,700 associates generated sales revenue of approximately 5.7 billion euros ($7.6 billion) in 2013.

About Bosch
The Bosch Group is a leading global supplier of technology and services. According to preliminary figures, its roughly 281,000 associates generated sales of 46.4 billion euros ($61.6 billion) in 2013 (Note: due to a change in the legal rules governing consolidation, the 2013 figures can only be compared to a limited extent with the 2012 figures). Its operations are divided into four business sectors: Automotive Technology, Industrial Technology, Consumer Goods, and Energy and Building Technology. The Bosch Group comprises Robert Bosch GmbH and its more than 360 subsidiaries and regional companies in some 50 countries. If its sales and service partners are included, then Bosch is represented in roughly 150 countries. This worldwide development, manufacturing, and sales network is the foundation for further growth. In 2013, Bosch applied for some 5,000 patents worldwide. The Bosch Group's products and services are designed to fascinate, and to improve the quality of life by providing solutions which are both innovative and beneficial. In this way, the company offers technology worldwide that is "Invented for life."

In the U.S., Canada and Mexico, the Bosch Group manufactures and markets automotive original equipment and aftermarket products, industrial drives and control technology, power tools, security and communication systems, packaging technology, thermotechnology, household appliances, healthcare telemedicine and software solutions.