Bosch Rexroth to bring the Factory of the Future to Automate 2019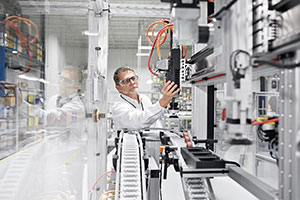 Located in booth #7929, Bosch Rexroth is exhibiting the latest in connected automation and Internet of Things (IoT) April 8-11 at Automate 2019 in Chicago
Experience Rexroth's innovative technology solutions firsthand at Automate 2019, April 8-11, in booth #7929 at McCormick Place in Chicago. Rexroth's Mechatronics@Work, Factory of the Future showcase will demonstrate the capability for Bosch Rexroth technologies to achieve customizable batch sizes. With its multi-technology design, Rexroth's Smart Assembly 4.0 Conveyor promotes the i4.0 compatibility of products from Rexroth's linear motion, assembly and automation technology portfolio.
In addition to Rexroth's featured displays, experts will be in the booth to walk visitors through the demos and answer technical questions about creating a factory of the future. Booth #7929 demonstrates why Bosch Rexroth is the ideal partner for making your Factory of the Future a reality.
Rexroth's booth highlights include:
The Mechatronics@Work demo collects and displays machine and production data to produce a customized package.
With its onboard IoT Gateway, the Smart Assembly 4.0 Conveyor can display any parameter on the system as well as communicate with other devices and display their data.
The Smart Assembly 4.0 Conveyor collects and shares i4.0 data with other systems for manufacturing transparency.
The ActiveAssist Workstation offers intuitive worker guidance, allowing teams to easily visualize information.
The ActiveCockpit is an interactive data visualization and communications platform designed to support employees and management personnel.
Rexroth's I4.0 Cube is a four-sided, interactive touchscreen display that showcases Rexroth's latest Industry 4.0 innovations.
Bosch Rexroth will display the automation technologies required to make the Factory of the Future a reality of the present. Stop by booth #7929 and see Bosch Rexroth's Factory of the Future! Now. Next. Beyond.
About Bosch Rexroth
As one of the world's leading suppliers of drive and control technologies, Bosch Rexroth ensures efficient, powerful and safe movement in machines and systems of any size. The company bundles global application experience in the market segments of Mobile Applications, Machinery Applications and Engineering, and Factory Automation. With its intelligent components, customized system solutions and services, Bosch Rexroth is creating the necessary environment for fully connected applications. Bosch Rexroth offers its customers hydraulics, electric drives and controls, gear technology, and linear motion and assembly technology, including software and interfaces to the Internet of Things. With locations in over 80 countries, more than 30,500 associates generated sales revenue of approximately 5.5 billion euros ($6.2 billion) in 2017.