Bosch Rexroth's New GoTo Products iPad App Provides All-in-One Digital Resource for GoTo Focused Delivery Program
New GoTo Products iPad App combines all GoTo Focused Delivery Program catalogs into touchscreen-driven Apple iPad App for faster, easier access to GoTo product information.

Bosch Rexroth enhances the efficiency and value of the company's expanding GoTo Focused Delivery Program with a powerful new tool for Apple iPad® users: The Products iPad App.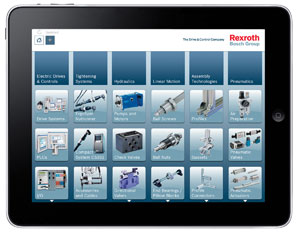 Now available from the GoTo Products iPad App page on the iTunes® app store, the new App takes all the advantages of Rexroth's GoTo Focused Delivery Program and combines them into one easy-to-use iPad App.

All GoTo program product catalogs, comprising more than 3000 linear motion, hydraulic, pneumatic, electric drives and controls and tightening systems products, have been combined into one digital resource. The GoTo Products iPad App offers a convenient, up-to-date resource for project managers, engineers and other personnel on the go who need ready access to product information and specifications.

The App makes full use of the Apple iPad's advanced capabilities, with graphical menus and user-friendly touchscreen control that make it easy to access specific details on in-demand Rexroth products for manufacturing, automation and machinery engineering. Users can search by product category, by selecting from a master product directory, or through the App's built-in search tools.

Detailed product pages include all up-to-date material from the print catalogs: technical data, dimension and specification tables, product visuals and other information. The App also includes video clips explaining key features of various Rexroth technologies, such as linear motion systems and hydraulics.

Users can bookmark favorite products for faster access. They can also build product lists with a few finger-taps, then e-mail the list to their preferred distributors or Rexroth to inquire about availability, pricing or shipment schedules

The GoTo Products iPad App also includes built-in access to Bosch Rexroth social media resources, including the company's Facebook page, Twitter feeds and its YouTube channel, providing additional product information and technical material such as case studies, training videos and product demonstrations.

The GoTo Focused Delivery Program was created to make Bosch Rexroth's most popular high-performance drive, motion and control products readily available to OEMs, systems integrators and end-users. Most products are available for delivery with market-best lead times, and many products ship within three days of ordering. The success of the program has led to its ongoing expansion, increasing the number of products offered by 145 percent in three years.

For more information, visit www.boschrexroth-us.com/gotoipadapp.
Bosch Rexroth AG is one of the world's leading specialists in the field of drive and control technologies. Under the Rexroth brand name, the company supplies more than 500,000 customers with tailored solutions for driving, controlling, and moving. Bosch Rexroth is a partner for Mobile Applications, Machinery Applications and Engineering, Factory Automation and Renewable Energies. The company provides customized solutions tailored to the needs and specifications of each individual market. As The Drive & Control Company, Bosch Rexroth develops, produces, and sells components and systems in over 80 countries. As part of the Bosch Group, Bosch Rexroth and its 34,900 associates generated approximately 5.1 billion euros in revenue in 2010.

The Bosch Group is a leading global supplier of technology and services. According to preliminary figures, more than 300,000 associates generated sales of 51.4 billion euros in the areas of automotive and industrial technology, consumer goods, and building technology in fiscal 2011. The Bosch Group comprises Robert Bosch GmbH and its more than 350 subsidiaries and regional companies in some 60 countries. If its sales and service partners are included, then Bosch is represented in roughly 150 countries. This worldwide development, manufacturing, and sales network is the foundation for further growth. Bosch spent more than 4 billion euros for research and development in 2011, and applied for over 4,100 patents worldwide. With all its products and services, Bosch enhances the quality of life by providing solutions which are both innovative and beneficial.