Bosch Rexroth launches new e-commerce website offering real-time inventory with fast delivery options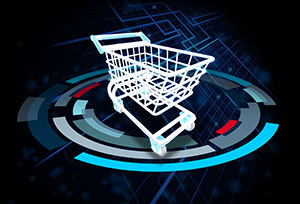 BuyRexroth.com provides the easiest access to selected Rexroth hydraulic and factory automation components and features user-friendly search options, purchase by credit card and same-day shipping.
Bosch Rexroth has launched a new e-commerce portal designed to provide the easiest access to select authorized Bosch Rexroth products, with the ability for customers to buy products with a credit card and schedule fast delivery — with same-day shipping.
The BuyRexroth.com website is designed to streamline the purchase of a broad range of in-demand Rexroth components, including industrial and mobile hydraulics, linear motion technology and electric drives and controls products. The site offers real-time inventory for immediate purchase.
Some of the products currently offered on the site include pressure- and directional-control valves and fixed- and variable-displacement pumps for industrial hydraulics applications, a wide selection of axial piston pumps and hydraulic motors for mobile equipment and servo drives, I/O modules, power supplies, HMIs and other electric drive and control products from Bosch Rexroth's Automation and Electrification portfolio.
The site incorporates several features to help customers obtain components to get new machines up and running as fast as possible or supply needed spare parts to bring existing machines back online. Key site features include:
Quick access to find available products for immediate purchase
Real-time information on pricing, availability and shipping terms
Optimized site layout, which includes home page callouts that promote featured products, best sellers and new products
BuyRexroth.com is designed to provide a straightforward shopping experience for customers who already know what they need and have low quantity requirements. Site registration is fast and simple, and products can be ordered, paid for with a credit card and shipped following commonly used online shopping features.
"We developed BuyRexroth.com as one more way to serve our customers," said Mike Hams, vice president of corporate sales at Bosch Rexroth. "This e-commerce site is a convenient resource to easily locate and buy genuine Rexroth equipment and spare parts with the confidence that you are getting exactly what you need, when you need it, to have your machine operating and running smoothly."
About Bosch Rexroth
As one of the world's leading suppliers of drive and control technologies, Bosch Rexroth ensures efficient, powerful and safe movement in machines and systems of any size. The company bundles global application experience in the market segments of Mobile Applications, Machinery Applications and Engineering, and Factory Automation. With its intelligent components, customized system solutions and services, Bosch Rexroth is creating the necessary environment for fully connected applications. Bosch Rexroth offers its customers hydraulics, electric drive and control technology, gear technology and linear motion and assembly technology, including software and interfaces to the Internet of Things. With locations in over 80 countries, roughly 31,000 associates generated sales revenue of roughly 6.2 billion euros ($7.3 billion) in 2019.
About Bosch
The Bosch Group is a leading global supplier of technology and services. It employs roughly 403,000 associates worldwide (as of December 31, 2019). According to preliminary figures, the company generated sales of 77.9 billion euros in 2019. Its operations are divided into four business sectors: Mobility Solutions, Industrial Technology, Consumer Goods, and Energy and Building Technology. As a leading IoT company, Bosch offers innovative solutions for smart homes, smart cities, connected mobility, and connected manufacturing. It uses its expertise in sensor technology, software, and services, as well as its own IoT cloud, to offer its customers connected, cross-domain solutions from a single source. The Bosch Group's strategic objective is to deliver innovations for a connected life. Bosch improves quality of life worldwide with products and services that are innovative and spark enthusiasm. In short, Bosch creates technology that is "Invented for life." The Bosch Group comprises Robert Bosch GmbH and its roughly 440 subsidiary and regional companies in 60 countries. Including sales and service partners, Bosch's global manufacturing, engineering, and sales network covers nearly every country in the world. The basis for the company's future growth is its innovative strength. At 125 locations across the globe, Bosch employs some 72,000 associates in research and development.