Bosch Rexroth - GoTo Focused Delivery Program Adds Products, Capabilities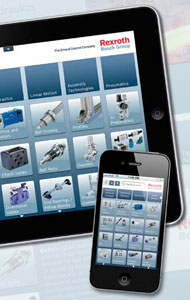 Charlotte, NC – The addition of a broad range of hydraulics products and the recent release of Rexroth's Fit4Filter app for iPhone and Android mobile devices add considerable new options to Bosch Rexroth's GoTo Focused Delivery Program. Originally launched in 2009 to offer industry-leading delivery times for Rexroth's most requested drive and control products, the GoTo Program offering has now more than tripled, and delivery performance has averaged greater than 95% over the program's history.
New products have been added across the company's broad range of Drive & Control technologies, including Tightening Systems, Electric Drives & Controls, Linear Motion and Pneumatics; more than 550 additions were made in the area of industrial and mobile hydraulics. Included are popular directional valves, Rineer motors, A10VO variable displacement pumps and newly offered configurations for both fixed and variable displacement motors. Rexroth's recent factory expansion in Fountain Inn played a key role in adding the mobile hydraulics products to the GoTo program.
As before, the updates are reflected in all of the latest catalogs at www.boschrexroth-us.com/goto, and users of Rexroth's popular GoTo Products apps for iPhone and iPad can retrieve all of the updates instantly by using the apps' sync-on-demand feature. A new Fit4Filter app for both iPhone and Android platforms is also of interest, allowing users to find replacement filter elements that are in the GoTo program and/or available through Amazon.com.
With proven success in the US and Brazil, customers in Canada and selected European countries will also soon experience the benefits of GoTo.
About Bosch Rexroth
Economical, precise, safe, and energy efficient: drive and control technology from Bosch Rexroth moves machines and systems of any size. The company bundles global application experience in the market segments of Mobile Applications, Machinery Applications and Engineering, Factory Automation, and Renewable Energies to develop innovative components as well as tailored system solutions and services. Bosch Rexroth offers its customers hydraulics, electric drives and controls, pneumatics, gear technology, and linear motion and assembly technology all from one source. With locations in over 80 countries, more than 37,500 associates generated sales revenue of approximately 6.5 billion euros ($8.4 billion) in 2012.
About Bosch
The Bosch Group is a leading global supplier of technology and services, active in the fields of automotive technology, energy and building technology, industrial technology, and consumer goods. According to preliminary figures, more than 306,000 associates generated sales of 52.3 billion euros( $67.2 billion) in 2012. The Bosch Group comprises Robert Bosch GmbH and its more than 350 subsidiaries and regional companies in some 60 countries. If its sales and service partners are included, then Bosch is represented in roughly 150 countries. This worldwide development, manufacturing, and sales network is the foundation for further growth. Bosch spent some 4.5 billion euros ($5.8 billion) for research and development in 2012, and applied for over 4,700 patents worldwide. The Bosch Group's products and services are designed to fascinate, and to improve the quality of life by providing solutions which are both innovative and beneficial. In this way, the company offers technology worldwide that is "Invented for life."
In the U.S., Canada and Mexico, the Bosch Group manufactures and markets automotive original equipment and aftermarket products, industrial drives and control technology, power tools, security and communication systems, packaging technology, thermotechnology, household appliances, solar energy, healthcare telemedicine and software solutions. Having established a regional presence in 1906, Bosch employs over 22,500 associates in more than 100 locations, with sales of $9.8 billion in fiscal year 2011.