Blackfly Camera Models BFLY-PGE-12A2 and BFLY-PGE-20E4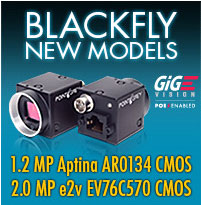 Point Grey, a world-leading designer and manufacturer of innovative, high-performance digital cameras, today announced two new models to the Blackfly family of ultra-compact PoE GigE Vision cameras.
The latest Blackfly models utilize leading-edge global shutter CMOS technology to capture crisp, distortion-free images of objects in motion, a critical requirement for applications such as factory automation or open road tolling. The BFLY-PGE-12A2 camera uses the new AR0134 from Aptina, a 1.2 megapixel CMOS image sensor capable of capturing images at 50 FPS. The AR0134 uses Aptina's latest 3.75-micron global shutter pixel technology to deliver exceptional low light performance and quantum efficiency of over 70%. The sensor's 1/3-inch optical format enables analog camera users to easily switch to digital without changing optics, while offering higher resolution and faster frame rates.
The new BFLY-PGE-20E4 model utilizes the new EV76C570 sensor from e2V, a 1/1.8-inch 2 megapixel sensor that supports frame rates up to 47 FPS. The higher resolution EV76C570 is the latest addition to e2v's Sapphire family of high sensitivity global shutter CMOS sensors, which also includes the 1.3 MP EV76560 device used in other Point Grey cameras.
Like other Blackfly models, these new cameras support cable lengths of up 100 meters using Gigabit Ethernet, are compatible with third-party imaging libraries via the GigE Vision standard, and provide a host of features including Power over Ethernet, temperature and status monitoring, in-field updatable firmware, color interpolation, look up table and gamma, and much more. With their unique combination of imaging performance, 29 x 29 x 30 mm size, and low price, the new Blackfly models are perfectly suited for applications in machine vision and factory automation.

"CMOS global shutter performance and customer demand continues to climb, favoring lower power consumption, no blooming or smearing artifacts, along with a very attractive price point," says Michael Gibbons, Director of Sales and Marketing at Point Grey. "We are very excited to release two new models featuring this technology, enabling our customers to take advantage of CMOS global shutter with more model selection and higher resolution."

The Blackfly BFLY-PGE-12A2 list price is $315 (€235) and the BFLY-PGE-20E4 is priced at $595 (€449). Both are available to order now from Point Grey, its network of distributors, and its North American, European and Australian web store.