Blackfly BFLY-PGE-03S3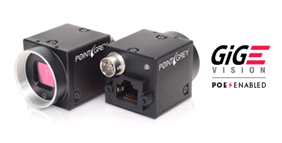 Point Grey, a world-leading designer and manufacturer of innovative, high-performance digital cameras, today announced the addition of a new VGA global shutter CCD model to its value-packed Blackfly GigE PoE camera family – the smallest PoE camera line in the world.

The new Blackfly BFLY-PGE-03S3 camera models are based on color and monochrome versions of the popular Sony ICX414, a 1/2" CCD featuring 9.9 micron square pixels and capable of 648 x 488 pixel resolution at 90 FPS. This combination of sensor format, resolution and frame rate have resulted in widespread adoption of this sensor in a variety of applications including automated inspection, panel alignment, 3D scanning and more. The BLY-PGE-03S3 offers existing analog or Sony ICX414 sensor users an easy transition path to GigE Vision without affecting optics or imaging performance.
The Blackfly supports cable lengths of up 100 meters using Gigabit Ethernet, is compatible with third-party imaging libraries via the GigE Vision standard, and provides a host of features including Power over Ethernet, temperature and status monitoring, in-field updatable firmware, color interpolation, look up table, gamma correction, pixel binning functionality, and much more. With their unique combination of sensors, 29 x 29 x 30 mm size, and GigE interface, the new Blackfly models are perfectly suited for factory automation and analog camera replacement.
"The Sony ICX414 is one of the industry's most popular VGA image sensors and is widely known for its high sensitivity, dynamic range and high frame rate," says Michael Gibbons, Director of Sales and Marketing at Point Grey. "By integrating it into the Blackfly, we provide a new and compelling option to customers. Analog camera users will be motivated by the Blackfly's form factor and sensor options to make the move to digital, while digital users can benefit from cost savings of up to 40% over competing products."

The BFLY-PGE-03S3M/C-C is list priced at $485/€375 and is available to order now from Point Grey, its network of distributors, and the online store (for North American, Australian, and EU customers).