BitFlow to Highlight New CoaXPress Frame Grabbers at The Vision Show in Boston
WOB

URN, MA -- BitFlow, Inc., a worldwide innovator in machine vision technology, today announced it will showcase the latest additions to its innovative hardware and software solutions in booth 520 at The Vision Show taking place May 8-10 at the Hynes Convention Center in the company's hometown of Boston.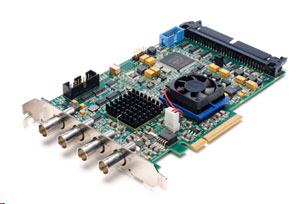 At this year's show, BitFlow will highlight new frame grabbers designed to help integrators build faster, more accurate machine vision systems. This includes the newly-announced Karbon CXP line, offering video capture speeds up to 6 Gigabits/Second (Gb/S), along with the ability to transmit power, control commands and triggers at 20 Megabits /Second (Mb/S) over a single piece of standard 75 Ohm coaxial cable. Karbon CXP frame grabbers are based on the CoaXPress™ (CXP) standard and deliver an array of powerful features including the PCI Express x8 interface.

Coming on the heels of the October 2011 release of the Karbon CXP2 two-channel frame grabber, BitFlow will demonstrate at The Vision Show its new Karbon KBN-PCE-CXP4. This design incorporates four independent channels to allow engineers to easily sync four single-link CXP cameras onto the same board for simultaneous image capture, or to connect a single quad-link CXP camera, two dual-link CXP cameras, or a combination of one dual and two single-link CXP cameras.

"BitFlow is the industry's leading American-made provider of frame grabbers for machine vision, and the new Karbon CXP takes our competitive advantage to the next level," said Donal Waide, Director of Sales for BitFlow. "CoaXPress will certainly be one of the hottest topics at The Vision Show, and all of us at BitFlow are excited to demonstrate one of the world's first CoaXPress four-channel boards, as well as all our other innovative hardware and software."