BitFlow Alta-AN
rong>LabVIEW™ Software Users Find Alternative to Discontinued Analog Frame Grabbers with BitFlow Alta-AN™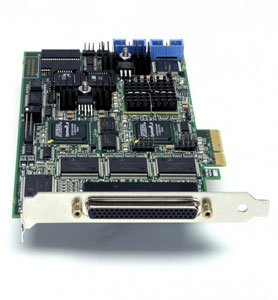 WOBURN, MA -- Affordable and versatile, Alta-AN™ frame grabbers from BitFlow acquire signals from virtually any analog camera on the market, from high speed asynchronous-reset monochrome cameras to super high resolution color HDTV cameras.

Equally impressive is that this compatibility extends itself to National Instruments' popular LabVIEW® software, making the Alta-AN an ideal replacement to several obsolete analog boards from various manufacturers.

"Some years ago, National Instruments discontinued production of its analog frame grabbers, including the popular NI PCI-1405 mode, creating a void that the BitFlow Alta-AN has filled," explained Donal Waide, Director of Sales for BitFlow: "Despite the machine vision industry's migration of analog to digital imaging, there remains a large population of legacy systems that still acquire analog data from cameras, PMTs and other devices and need a method to get those signals into LabVIEW for analysis. Users of LabVIEW software who originally had installed NI analog boards can now seamlessly swap them out with a BitFlow Alta-AN and experience the same ease-of-use, fast acquisition and minimal CPU usage."

In addition, free drivers can be downloaded from the BitFlow web site for LabVIEW and most 3rd party machine vision packages. The Alta-AN models are software compatible with each other, as well as with all the other current BitFlow frame grabbers

BitFlow Alta-AN frame grabbers have a Virtual Frame Grabber (VFG) to support either one, two or four analog cameras. Each VFG operates independently so they can be configured for a different camera, triggering mode, and destination buffer, as well as a different acquisition state than the other VFGs on the same board. In addition, multiple VFGs on a single board can acquire signals simultaneously at the cameras' full frame rate and resolution, assuring the highest quality imaging performance.