Bionic Joint Modules for Humanoid Robots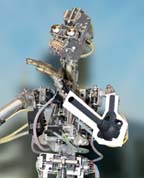 EAST PROVIDENCE, R.I. - igus® introduced an innovative robot joint module system at the Hanover Fair 2010. Previously, robot developers were forced to put together complex, custom solutions from numerous individual components. igus is currently looking for beta testers for this new product.
The joints in the Robolink system are controlled by cable tension, in a similar way to the human mechanics of bones and tendons. All data cables are routed safely through the jointed arms, which are effectively the robot's skeleton. These cables convey images, acoustics and forces, which are the artificial senses of humanoid robots.
Simple, modular system
Dr. Rudolf Bannasch is Managing Director at the Berlin-based company EvoLogics, a high-tech company working in the field of bionics and humanoid robots. He provided both the motivation and developmental support behind igus' ground-breaking Robolink component.
"During the development of humanoid robots, we spend an enormous amount of time on the mechanisms," says Dr. Bannasch, "We had been dreaming of a straightforward, modular system for quite some time."
The need was to reduce development times so that artificial-intelligence programmers could be involved earlier in the process. Luckily, igus has years of field experience with both humanoid and industrial robots. For example, many six-axis robots all over the world are fitted with the company's Triflex® R multi-axis cable carrier systems.
Moving mass kept as low as possible
The robot unit was primarily designed for robot developers and laboratories that work with humanoid systems, as well as with lightweight engineering solutions for handling and automation.
igus' development objective was to keep the moving mass as low as possible, so that the actuators can be separated from functioning tools, such as grippers, hands, suction cups, and so on. Particular attention was given to enabling a quick assembly and user-friendly design, as well as using tribo-optimized plastics to provide both freedom from lubrication and a low weight.
Freedom when configuring robot joints
Robolink is comprised of a drive-and-control unit, joints in different lengths, and arms in different sizes, including a duct for additional control cables. At the end of this jointed system, igus offers the option to connect to different types of tools.
Since the system is modular, it can be constructed with all kinds of humanoid robot configurations. This ranges from jointed arms, moving 'digger' arms, through to four-legged 'creatures'. The joints can be easily combined as required.
Wear-resistant movement and control
The drive-and-control unit was purposely designed as a black box. Robot developers have the option to work with pneumatics, electro technology, or hydraulics within this. The jointed arms are made from carbon-fiber reinforced plastic and other lightweight materials.
The bionic core of the robot's skeletal parts is the injection-molded plastic joints. They are controlled via cable pulls that transfer tensile forces, just as tendons function in humans. The cable sheath is held and the inner cable moved. This way, the gripper, shovel, hook—or whichever tool the developer chooses—is moved and operated.
Series connections as in humans
The cable pulls are routed through from one joint to the next—just as joints are connected in humans. Only four cables are required for each plastic joint to be able to rotate and swivel freely.
The cables themselves are made from technical synthetic fibers. These are extremely strong, hardly stretch at all, are resistant to chemicals, and are lubrication-free and very wear resistant. When compared to steel, their light weight also makes them much more energy-efficient.
"We are pleased to be breaking new ground with our tribo-plastics," says igus Managing Director Frank Blase. "The new modular system brings the developers of humanoid robots real benefits: lightweight, ready-made mechanical solutions for the future."
If you are interested in becoming a beta tester for this product, please contact igus at 1 (800) 521-2747.
About igus
igus develops industry-leading Energy Chain® cable carriers, Chainflex® continuous-flex cables, iglide® plastic plain bearings, igubal® spherical bearings, DryLin® linear bearings and guide systems. These seemingly unrelated products are linked together through a belief in making functionally advanced, yet affordable plastic components and assemblies. With plastic bearing experience since 1964, cable carrier experience since 1971 and continuous-flex cable since 1989, igus provides the right solution based on 70,000 products available from stock. No minimum order required. For more information, contact igus at (800) 521-2747 or visit www.igus.com.