Big Changes at ATI Industrial Automation Improve Quality and Delivery Times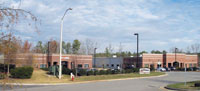 Thursday, March 13, 2008 (Robotics Online) - ATI Industrial Automation, RIA Supplier Member, and a world-leading engineering-based developer of robotic peripheral equipment, including Automatic Tool Changers, Multi-axis Force/Torque Sensing Systems, Robotic Deburring Tools, Robotic Collision Sensors and Compliance Devices, has undergone big changes over the past several months. Recent expansion and process improvements have resulted in shorter lead times, improved quality and on-time delivery.
A second building was constructed at ATI's corporate and manufacturing facility in Apex, NC to house additional engineering, manufacturing and inventory. Doubling in size, ATI is able to quickly and efficiently fill orders for its robotic end-effectors and Force/Torque Sensors.
The additional space at the Apex facility has allowed for several enhancements, including:
A temperature controlled metrology lab was created to house precision measuring equipment including two CMMS (Coordinate Measuring Machines), providing consistent measurements down to 0.0004 of an inch.
A highly customized serial number tracking system was implemented for products and components from the time they are built to the time they are shipped. Employees can now see the entire history of each item manufactured by simply scanning its serial number. This system has improved customer service and inventory accuracy.
A highly integrated information infrastructure and improved EPR (Enterprise Resource Planning) system has improved customer service and communication.
Reorganization of production workflow process within the new space has resulted in faster manufacturing and delivery.
An improved RMA system was developed for faster repairs. This has allowed ATI to track product problems in more detail ultimately improving quality while reducing customer downtime.
A new Design Control process was implemented to guarantee that new product designs meet customer specifications, and ensure that key dates are met during the design and build process.
The Safe Launch Initiative, a cross-functional team and process consisting of employees representing each department, was created to ensure quality and on-time delivery of newly-designed products.
New supplier corrective action processes were established to ensure that all components from suppliers meet ATI's high-quality standards.
ATI has also opened new offices in Detroit, Michigan and Beijing, China. The Detroit office is located in the heart of "Automation Alley" to provide quick, on-site sales and customer service to the many surrounding high-tech businesses. The Beijing office is strategically placed in the Xuanwu District to provide service and sales support to mainland China, Hong Kong and Taiwan.
Keith Morris, President, explains, "Our products are found in literally thousands successful applications around the world. Our team of mechanical, electrical and software engineers along with our dedicated corporate and sales staff works together to provide the best products backed by the best service. We will continue to develop new cost-effective, state-of-the-art end-effector products and solutions that improve robotic productivity."
For more information about the ATI expansion and products, contact Charles Haines, Marketing Manager, ATI Industrial Automation, 1031 Goodworth Drive, Apex, NC 27539, phone 919-772-0115, fax 919-772-8259, e-mail [email protected].