Bi-telezentrische QuadraMount
v>Bi-telecentric QuadraMount Objectives Offer Mounting Advantages
Complementing the superior optical performance of its already popular bi-telecentric lenses, Opto GmbH has introduced QuadraMount versions of its lenses, which incorporate a simple, but highly effective mounting and integration mechanism.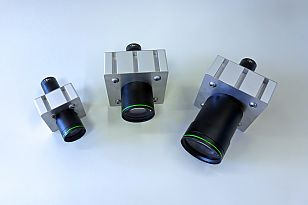 Bi- telecentric lenses from Opto are fully telecentric on both object and image side with zero perspective distortion. The new QuadraMount versions of these lenses feature a universal square profile enabling simple integration, minimal alignment setup, reliable fastening and wide compatibility to the standard aluminium profiles used in machine vision systems.
CEO Markus Riedi stated: "Our latest QuadraMount innovation enables simple, universal integration of our telecentric lenses to virtually any machine vision environment. With this innovative mounting solution, the lenses are far less sensitive to mechanical stress and vibration, and significantly simplify our customers alignment and setup procedures. Together, these features assist in eliminating measurement errors from the vision system, and make an Opto QuadraMount lens the perfect solution for high-precision measurements of precision components"
The Opto QuadraMount series comprises seven bi- telecentric C-mount lenses with magnifications ranging from 0.05x to 0.32x. This corresponds to object field sizes from a minimum of 20 x 15 mm to a field diameter of 186 mm. The lenses are suitable for sensor sizes up to 2/3".
The objectives have been shown at Laser China in Shanghai for the first time and will now be presented at the Control in Stuttgart as well as at the SMT Show in Nuremberg. Being a leading developer of optomechanical components and modules, Opto is able to provide complete OEM development, and lens customisation where required.
About Opto:
Since 1980, Opto GmbH has been a specialist developer and manufacturer of market leading optomechatronic modules, components and systems. Opto delivers solutions ranging from single vision components all the way to complex imaging modules and systems. Thanks to a comprehensive in-house manufacturing capability, Opto is able to meet any production demand – from rapid single unit prototyping all the way to serial production. Opto – solutions reduced to your needs.