Beckhoff to Introduce XTS, EtherCAT G and TwinCAT Vision to the US Market at Pack Expo 2019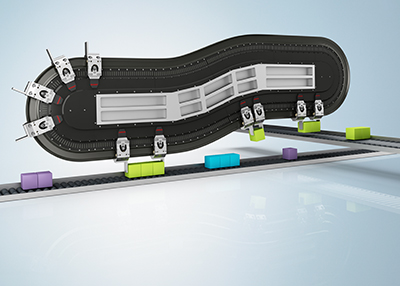 Revolutionary linear transport system, gigabit EtherCAT and machine vision software to be key reveals at leading packaging trade show
SAVAGE, Minnesota – To revolutionize packaging machine flexibility, scalability and energy efficiency, Beckhoff Automation will launch the eXtended Transport System (XTS) into the U.S. market at Pack Expo 2019 in Las Vegas. Visitors to booth LS-6149 in the Las Vegas Convention Center's lower south hall will also experience the North American debut of TwinCAT Vision software, which introduces system-integrated vision technology for packaging machines. Beckhoff will showcase a full lineup of updated automation hardware, software and gigabit communication via EtherCAT G for packaging machinery during the world-renowned trade show, which runs September 23 – 25, 2019, and is expected to draw 30,000 attendees.
XTS: the American packaging industry's next step forward
Now available in the U.S., XTS combines the advantages of rotary and linear drive principles into a best-of-breed linear transport system that provides paradigm-shifting capabilities for packaging machines and smart factories. The mechatronic solution enables intelligent material flow, exceptional precision, real-time robotics integration and efficient self-reconfiguration based on lot, recipe or other product specifications. Highly customizable and durable motor modules, mechanical guide rails and wireless movers integrate the necessary power electronics, EtherCAT communication and position measurement in a compact form factor, reducing machine footprint up to 50%.
XTS movers can be controlled with high dynamics at velocities reaching 4 m/s and acceleration exceeding 100 m/s2. Modular linear motors and rails can create circles, clothoids and S-curves as well as straight, open segments. Supporting installation horizontally, vertically or at angles, tracks can be combined to dynamically manipulate or transport parts with multiple movers. Flexible mass production down to lot size 1 is possible through XTS along with EtherCAT networking, PC-based control hardware and TwinCAT 3 automation software from Beckhoff.
TwinCAT sets its sight on machine vision
Beckhoff will also showcase new TwinCAT Vision software, which adds comprehensive image processing into the range of machine control programming and runtime in TwinCAT 3. Machine vision is becoming indispensable in packaging operations for implementing Industrie 4.0 concepts, real-time synchronization, track-and-trace and quality optimization. TwinCAT Vision simplifies design of these functions; it enables users to harness the benefits of GigE Cameras on diverse machines and lines without requirements for separate, third-party vision systems or programming by outside experts.
The universal TwinCAT engineering environment and runtime permit vision system programming and implementation using languages that controls engineers are familiar with, such as those standardized in IEC 61131-3. With a fully integrated vision solution, TwinCAT offers an end-to-end software platform complete with PLC, motion control, robotics, high-end measurement technology, HMI, IoT and machine learning.
Complete automation platform for today's packaging challenges
Visitors to the Beckhoff booth at Pack Expo will also get updates on new EtherCAT solutions, including EtherCAT G and G10, TSN-ready I/O, ELM high-end measurement modules and TÜV-certified TwinSAFE hardware for integrated machine safety architectures. EtherCAT G and EtherCAT G10 will provide communication at 1 and 10 Gbit/s, respectively, in conformance with the IEEE 802.3 Ethernet standard. An innovative branch controller model supports parallel operation of standard 100 Mbit/s segments with EtherCAT G or G10 as the main trunk, or vice versa. With incredible flexibility, transmission speeds and bandwidth, EtherCAT G enables packaging operations to implement smart factory concepts with high degrees of machine learning, vision or high-end motion control, including XTS technology.
Other Pack Expo highlights include a wide array of new PC-based control hardware and accessories, including CU81xx Uninterruptable Power Supply (UPS) Modules and CU8210 WLAN devices. The CU81xx series provides 24 V DC uninterruptible power to Beckhoff components and connected devices, particularly industrial, panel and embedded PCs, and initiates data saving, transfer of processes to defined states and safe shut down if external supply fails. Plugging directly into an Industrial PC's USB 2.0 port and protected by a durable dome, new CU8210 components offer a high-performance and backward-compatible wireless client with encrypted data exchange up to 433.3 Mbit/s and support for 20, 40 and 80 MHz transmission bandwidths.
The ultra-compact C60xx series Industrial PCs will return with the new C6032, which offers the same quad-core, 3.6 GHz Core™ i7 processors as the powerful C6030 IPC but with two additional PCIe compact module slots. Modular AX8000 Servo Drives and the AMP8000 Distributed Servo Drive System, which integrates a servo drive directly into a compact servomotor and provides power and communication in one cable via EtherCAT P, round out the motion control lineup.
"The Beckhoff innovations on display at Pack Expo 2019 will help packaging professionals meet ever-increasing demands for flexibility, throughput and compact footprint that are only possible with greater implementation of smart factory and Industrie 4.0 concepts," said Kevin Barker, president of Beckhoff Automation LLC. "The capability of XTS to revolutionize packaging machines and systems has reached the U.S. market at an opportune time. By adding this dynamic mechatronic system, along with TwinCAT Vision and EtherCAT G, to our robust automation and controls portfolio, Beckhoff further empowers engineers to design new, globally competitive machine designs that can conquer today's greatest challenges in the packaging industry and beyond."
About Beckhoff Automation
Beckhoff Automation is a provider of advanced and open automation solutions based upon proven technologies for customers to implement high-performance control systems faster and at a lower overall cost than traditional PLC and motion control systems. Beckhoff's "New Automation Technology" product range includes PC-based control, industrial PCs, automation controllers, operator interfaces, I/O, servo drives and motors. With representation in more than 75 countries, Beckhoff is well positioned to provide global sales and service to its customers. Beckhoff sales and service are handled directly, with no intermediaries involved for exceptional customer service and consultation.