Baumer Presents the CX Series with GigE and USB 3.0 Interface
New camera series with latest generation of CMOS technology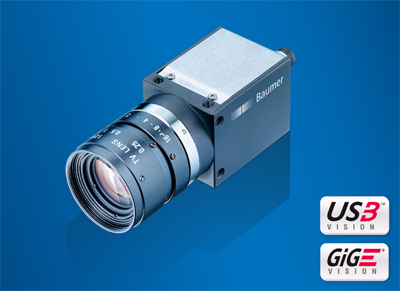 The new industrial cameras of the CX series by Baumer rely on the latest CMOS sensor generation Sony® Pregius™ and ON Semiconductor® PYTHON. Merging top quality with high reliability, they help realize future-ready applications. The broad range of sensor models includes both GigE and USB 3.0 cameras with resolutions from VGA to 5 Megapixel. This way, the full-featured camera series with excellent image quality and high frame rates provides the ideal model for varied application fields across all industries – with significant reduction of design-in support in parallel. First CX models are already available; more are to follow in the months to come.
The cameras with form factor 29 x 29 mm feature one of the smallest camera designs available on the market. They fit conveniently into even narrow installation environments, yet provide a high degree of flexibility. M3 mounting capabilities at each side of the square housing particularly ease mechanical integration at reduced cost. Camera events and the integrated image memory ensure synchronized process control for long-term stable image evaluation. The GigE models with Burst Mode enable higher frame rates than provided by the interface bandwidth which opens a wide application potential with all the benefits of GigE Vision® to the user. Thanks to the efficient thermal concept, the cameras endure up to 65 °C housing temperature for high application versatility at excellent image quality. To ensure the highest process safety, the integrated temperature sensor provides the currently present temperature at all times.
The USB cameras utilize only one single cable for high data transmission rates and easy integration by Plug & Play functionality. GigE cameras with 12 to 24 V wide-range power supply or PoE (Power over Ethernet) perfectly comply with conventional automation requirements. Opto-decoupled input and output contribute extra safety towards reliable operation in the overall system.
Learn more about the Baumer industrial cameras of the CX series