Batch Processor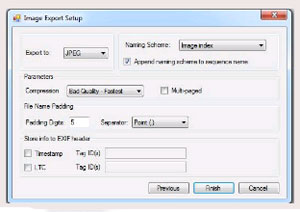 NorPix announces the new Batch Processor interface that is designed to facilitate the exportation, conversion, and processing of sequence files captured by the StreamPix 5 suite of software. The Batch Processor adds a wizard-like workflow for sequencing multiple batch processes, simplifying the number of steps required to achieve the desired final conversion.

Functionality encompassed by the Batch Processor application includes:
Ability to extract individual video frames to standard still image formats including TIFF, JPEG, and BMP.
Compression of sequence files.
Batch processing of sequence files.
Conversion of sequence files to AVI video files.
Extraction and analysis of video timestamps.
The Batch Processor application also gives users the ability to fully customize each batch job, providing a graphical interface that lists the options available for a particular process.
Batch processing can be a time-saving technique, especially when working with a long list of digital video files that must be converted or otherwise processed before being distributed or archived. The NorPix Batch Processor application makes it easier and faster to achieve repeatable batch processing results without the need to memorize extensive command line parameters or create a secondary batch file to schedule and sequence each processing job.

About StreamPix
As NorPix's flagship software product, StreamPix 5 has become the ultimate Digital Video Recording software. With its state-of-the-art user interface, users may view, control and acquire from single or multiple cameras simultaneously. StreamPix 5 provides a complete management console for cameras, simplifying the setup, control and acquisition from any number and type of camera.

About NorPix
NorPix is a developer of high-speed digital video recording software specializing in single or multiple camera acquisition. Our software provides a wide selection of features such as time stamping, synchronization, audio and data acquisition and much more. Our software and systems are used throughout a wide range of applications including special effects, scientific research, life science, geo-mapping and military applications.