Basler Shows Dart Board Level Cameras with Unique BCON Interface at The Vision Show Boston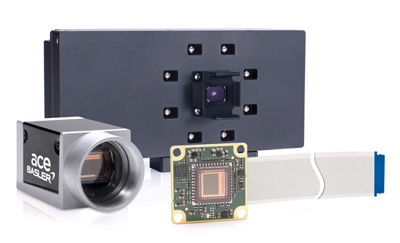 At the biggest machine vision show of the US, Basler will reveal its unique BCON camera interface based on the LVDS technology and geared towards embedded applications.
Exton – Basler will present the newest addition to the dart board level camera family, the dart BCON, at The Vision Show in Boston. The bienniel show, organized by the machine vision association, AIA, will take place on May 3-5, 2016 at the Hynes Convention Center in Boston, Massachusetts.
BCON is a unique interface developed by Basler based on the LVDS (Low Voltage Differential Signaling) standard. It offers reliable image data transfer at high speed. The BCON interface offers the highest flexibility for connecting with LVDS-based technology, like FPGA (Field Programmable Gate Array) boards and SoCs (System on Chip).
Another show highlight will be the new Basler Time-of-Flight camera, the first high-resolution ToF camera on the market, offering 3D technology suitable for the mass market.
Also on the show floor there will be the new Basler ace models with Sony's IMX174 and IMX249 sensors and the PYTHON sensors from ON Semiconductor. These cameras already come with Basler's new PGI feature set which achieves improved sharpness, denoising, color-anti-aliasing, and 5x5 debayering.
In addition, there will be the pulse and the Basler beat camera series as well as the Basler Lenses on display.
Basler's booth 803 will be located in Hall B of the Hynes Convention Center.
About Basler
Basler is a leading global manufacturer of digital cameras for industrial and retail applications, medical devices, and traffic systems. Product designs are driven by industry requirements and offer easy integration, compact size, excellent image quality, and a very strong price/performance ratio. Founded in 1988, Basler has more than 25 years of experience in vision technologies. The company employs 500 people at its headquarters in Ahrensburg, Germany, as well as in international subsidiaries and offices in Europe, Asia, and the Americas.
Company Contact
Julia Fell, Marketing Coordinator
Tel: +1 610 719 3046
Embedded Vision
This content is part of the Embedded Vision curated collection. To learn more about Embedded Vision,
click here
.