Basler Showcases Innovations at the VISION Stuttgart Show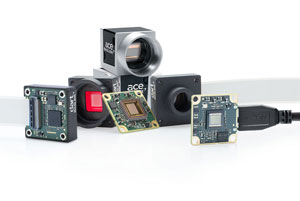 As the world's leading manufacturer of industrial digital cameras, Basler once again generates high interest at the world's leading trade show for image processing: VISION Stuttgart, November 6-8, 2018. Innovative products and solutions will be presented, under the banner of Vision That Works.
Ahrensburg – Basler will present innovative new products and further developments of its portfolio for a broad range of applications at VISION Stuttgart from November 6-8, 2018.
In the performance segment, Basler shows an approach that addresses the availability of new interfaces and new sensor generations while meeting the market demand for higher resolution and higher frame rates. The combination of Basler cameras and compatible frame grabbers is a decisive benefit for the customer.
Visitors to the exhibition can also look forward to new models from the successful ace series. The manufacturer shows its ace model, which was developed as a 1: 1 replacement for Sony's discontinued CCD sensor ICX618. In the higher-resolution segment, Basler will introduce four 20 MP ace U models based on the Sony Pregius IMX183.
Another highlight is the new Embedded Vision Development Kit consisting of Qualcomm's ARM-based SoC with integrated ISP (Image Signal Processor), the Snapdragon™ 820, the Basler dart 5 megapixel camera module with BCON for MIPI interface and the pylon Camera Software Suite for Linux operating system. A sophisticated live presentation, implemented with Basler's Time-of-Flight camera, demonstrates a large and cost-optimized system integration with embedded vision.
In addition, visitors to the show can look forward to new accessories and a unique concept in the field of lighting, centered on maximizing customer value. Customers benefit from easy integration and optimized total system costs.
Basler's presence at the VISION 2018 will be rounded off by presentations at the exhibitor forum.
Basler at the VISION: Hall 1, Stand 1E42
About Basler
Basler is a leading manufacturer of high-quality cameras and camera accessories for industry, medicine, traffic and a variety of other markets. The company's product portfolio encompasses area scan and line scan cameras in compact housing dimensions, camera modules in board level variants for embedded solutions, and 3D cameras. The catalog is rounded off by the user-friendly pylon SDK plus a broad spectrum of accessories, including several developed specially for Basler and optimally harmonized for their cameras. Basler has three decades of experience in computer vision. The company is home to approximately 600 employees, at its headquarters in Ahrensburg, Germany, and at its subsidiaries and sales offices in Europe, Asia, and North America.