Basler scout light Cameras Now Available With GigE Interface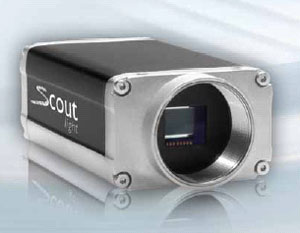 Camera specialist Basler has expanded the scout light series. They have added eight camera variants with Gigabit Ethernet interface to the established range of FireWire models.

The new GigE models use selected Sony CCD sensors and are available in monochrome and color. They are called slA640-74gm/gc (Sony ICX 414), slA780-54gm/gc (Sony ICX 415), slA1390-17gm/gc (Sony ICX267), and slA1400-17gm/gc (Sony ICX285).

The scout light series addresses users in very price-sensitive markets who do not want to cut back on image quality. The cameras deliver excellent images as well as a selection of useful features.
Free Driver and Broad Accessory Portfolio
The scout light series is supported by Basler's free Basler pylon driver package and SDK for easy system integration and camera handling. A broad range of camera accessories, such as cables, switches and lenses is also available from Basler.
Basler is a leading global manufacturer of digital cameras for industrial applications, medical devices, traffic systems, and the video surveillance market. Product designs are driven by industry requirements and offer easy integration, compact size, and a very strong price/performance ratio. These characteristics are the decisive factors allowing Basler to hold a leading position in the GigE Vision arena today. Founded in 1988, Basler has more than 20 years of experience in vision technologies and offers one of the broadest product portfolios in the industry. The company employs around 300 people at its headquarters in Ahrensburg, Germany, as well as in international subsidiaries and offices in the U.S., Singapore, Taiwan, Korea, and Japan.