Basler Rolls Out GigE Camera Innovations at Automate Chicago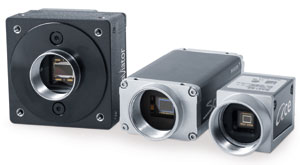 At Automate 2011, Basler will exhibit its extensive area and line scan camera portfolio and will demonstrate its ongoing technology and price leadership in the GigE camera segment. Highlights will be the latest ace, aviator, and scout2 area scan camera models that combine great image quality, speed, and many useful features with very attractive pricing.
Basler is starting a new era of innovation and is introducing a set of ultra-fast, high resolution ace models with a footprint of only 29 mm x 29 mm. These cameras use the new 2 and 4 megapixel resolution CMOS sensors from CMOSIS, which reach up to 340 and 180 frames per second respectively. With a global shutter and a Camera Link interface, this new set of ace camera models expands the frontiers for a wide range of throughput orientated applications.

Basler will introduce aviator area scan camera models with a GigE interface, Kodak's latest CCD sensor generation, and resolutions of 1, 2 (4:3 and HDTV), and 4 megapixels and over 100 frames per second. These cameras combine great image quality, speed, and leading edge Basler GigE technology in an ideal way.
Basler will also exhibit the new scout2 GigE camera family with Power over Ethernet (PoE) and a novel color image enhancement concept with advanced color features. The scout2 is the next generation of Basler's very successful scout series. These cameras address applications that are extremely price sensitive and make a convincing argument with their excellent price/performance ratio. Basler scout2 cameras are primarily equipped with monochrome and color Sony CCD sensors that have resolutions from VGA to 2 megapixels and image capture rates up to 120 frames per second.
Automate 2011
Booth 342
McCormick Place North, Chicago
March 21-24, 2011