Basler Reports Business Figures for 2013
v>Company Reaches new Record Values
Sales: € 65.1 million (2012: € 55.9 million, +16 %)
Incoming orders: € 68.6 million (2012: € 60.6 million, +13 %)
Pre-tax result: € 7.8 million (2012: € 5.6 million, +39 %)
Free cash flow: € 5.6 million (2012: € 6.3 million, -11 %)
Guidance for 2014: Sales € 70-74 million, pre-tax return rate 8-10 %
Ahrensburg, Germany - Basler AG, one of the leading global manufacturers of industrial cameras, is presenting today its audited annual report 2013.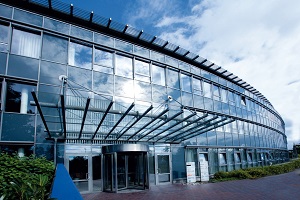 The group's sales increased in the fiscal year 2013 by 16 % to € 65.1 million (previous year: € 55.9 million). The gross profit margin increased to 49.9 % after 48.1 % in the previous year. The earnings before taxes amounted to € 7.8 million (previous year: € 5.6 million, +39 %). The pre-tax return rate amounted to 12 % (previous year: 10 %). With these results, the previous guidance communicated by the company has been achieved at the upper end.

The cash flow from operational activity amounted to € 12.1 million (previous year: € 12.6 million, -4 %). The free cash flow, calculated as the sum of cash flows from operational activity and investment, reached a value of € 5.6 million (previous year: € 6.3 million, -11 %).

In 2013, Basler achieved the best results in the 25 years of the company's history. With this background, Basler will propose to this year's shareholders' meeting the distribution of a dividend of 47 cents per share.
For the fiscal year 2014, the Basler group expects an increase of sales to € 70 million to € 74 million. Due to attractive growth opportunities in the industrial camera market, investments in future sales growth will be continued with unabated intensity. As far as earnings are concerned, the company is assuming a solid pre-tax return rate between 8 % and 10 % depending on the sales development.
Basler is a leading global manufacturer of digital cameras for industrial and video surveillance applications, medical devices, and traffic systems. Product designs are driven by industry requirements and offer easy integration, compact size, excellent image quality, and a very strong price/performance ratio. Founded in 1988, Basler has 25 years of experience in vision technologies and has designed and manufactured high quality digital cameras for 15 years. The company employs over 400 people at its headquarters in Ahrensburg, Germany, as well as in international subsidiaries and offices in the U.S., Singapore, Taiwan, China, and Korea.