Basler Releasing Development Kit for Embedded Vision Applications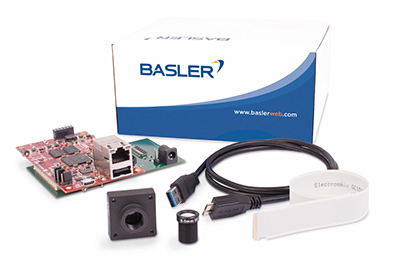 The Basler PowerPack for Embedded Vision is a development kit for integrating a Basler dart camera with a BCON for LVDS interface. It contains a dart camera module, a processing board based on the Xilinx ZYNQ®-7010 as well as additional accessories and offers a complete sample setup for an LVDS-based camera connection.
Ahrensburg – Basler's development kit simplifies the often-complex and time-intensive task of integrating LVDS-based camera modules into embedded vision applications. To achieve this, the Basler PowerPack for Embedded Vision contains reference implementations for both the hardware and software side that can be used as a template for designing a complete embedded vision system. It paves the way for developers to integrate a Basler dart camera with the BCON for LVDS interface into an SoM (system-on-module) with suitable architecture.
The Basler PowerPack for Embedded Vision is comprised of a Basler dart camera module with the BCON for LVDS interface and 5 megapixels of resolution, a lens, a processing board with Xilinx Zynq®-7010 SoC (system-on-chip), cables, and additional accessories. Beyond this, the development kit contains a reference implementation demonstrating FPGA-based image capture by the Zynq SoC as well as connection of a dart BCON camera module to the Basler pylon camera software suite. The kit serves as the perfect stepping stone to custom development, illustrating how the camera module can be addressed and configured via the pylon SDK.
The development kit supplements Basler's embedded vision offerings; this includes various camera modules with USB 3.0 and BCON for LVDS interfaces, an evaluation kit with a dart USB camera, software, and components. Series production for the PowerPack for Embedded Vision will be launched together with the Basler dart BCON series in early 2017.
About Basler
Basler is a leading global manufacturer of digital cameras for industrial and retail applications, medical devices, and traffic systems. Product designs are driven by industry requirements and offer easy integration, compact size, excellent image quality, and a very strong price/performance ratio. Founded in 1988, Basler has more than 25 years of experience in vision technologies. The company employs 500 people at its headquarters in Ahrensburg, Germany, as well as in international subsidiaries and offices in Europe, Asia, and the Americas.
Company Contact
Nina Maaß – Senior Communications Specialist
Tel: +49 4102 463 306
Embedded Vision
This content is part of the Embedded Vision curated collection. To learn more about Embedded Vision,
click here
.