Basler Introduces New In-camera Image Optimization PGI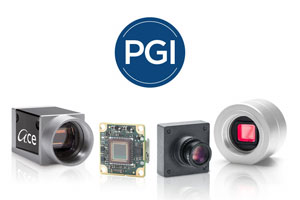 The recently launched ace, dart and pulse models from camera manufacturer Basler are equipped with PGI, a unique new firmware feature set that allows real-time in-camera image optimization that won't drag down performance.
Ahrensburg – To further improve its already excellent image quality, Basler has now equipped all new models in the ace series as well as all cameras in the dart and pulse series with a unique new patent-pending technology called PGI. This powerful in-camera image optimization feature set is comprised of a unique combination of improved sharpness, denoising, color-anti-aliasing and 5x5 debayering.
The feature set has been engineered to be very lean and use as few resources as possible. Even with PGI activated, the camera will continue to run at full speed — without the need for expensive enhancements such as larger internal memory or add-on processing units. Because the computational work is handled directly within the camera, PGI is 100% real-time compatible and significantly shortens latency times.
Thus, PGI gives users access to quicker image processing and with it the higher throughputs. Further it opens up additional cost savings along the image processing chain, all while significantly optimizing image quality.
Sören Böge, Product Manager for the Basler ace line and responsible for the new PGI feature set, explains: "With PGI, your camera will produce better images than ever, without putting additional load on your processor or slowing down the camera. Beyond this, you can use the pylon Camera Software Suite to activate PGI features or adjust the settings on the individual PGI components. Ideal results for your application are fully in reach."
About Basler
Basler is a leading global manufacturer of digital cameras for industrial and retail applications, medical devices, and traffic systems. Product designs are driven by industry requirements and offer easy integration, compact size, excellent image quality, and a very strong price/performance ratio. Founded in 1988, Basler has more than 25 years of experience in vision technologies. The company employs 500 people at its headquarters in Ahrensburg, Germany, as well as in international subsidiaries and offices in Europe, Asia, and the Americas.
PR Contact
Kira Heikaus – Communications Specialist
Tel: +49 4102 463 661