Basler Introduces Embedded Vision Solutions for the NVIDIA Jetson Platform
Basler launched an Embedded Vision Development Kit and two Add-on Camera Kits with BCON for MIPI interface for NVIDIA® Jetson™, the comprehensive AI platform for autonomous machines. As a Preferred Partner of NVIDIA, Basler now offers fully integrated hardware and software packages for the Jetson family.
Ahrensburg – Basler, a leading global provider of embedded vision solutions, today announced its new Embedded Vision Development Kit and two Add-on Camera Kits powered by the NVIDIA® Jetson™ platform.
As an NVIDIA Preferred Partner, Basler has now extended its support for the full lineup of Jetson products. Image processing for today's AI at the edge applications in robotics, logistics, smart retail, smart factories, and smart cities requires high computing power. The enormous compute and energy efficiency advantages of the NVIDIA Jetson platform along with Basler's vision know-how offer customers an excellent combination for use in automatic optical inspection, intelligent video analytics and more.
The Embedded Vision Development Kit, which includes the Jetson Nano™ Developer Kit, comes with a Basler dart BCON for MIPI camera with 13 MP, S-mount lens, an adapter board specifically developed for the Jetson Nano module, and accessories. Basler has also integrated new camera driver and sample reference applications leveraging the powerful capabilities of the NVIDIA Jetson platform, giving developers a ready-to-use development package for edge AI use cases.
The two Add-on Camera Kits provide the appropriate vision extension for developers already working with a Jetson Nano processor board. The Add-on Camera Kits contain either a 5 MP or a 13 MP Basler dart BCON for MIPI camera with S-mount lens, an adapter board, and accessories. Here, the required driver packages and the Basler pylon SDK are available for download from the Basler website.
"Partnering with an edge computing leader like NVIDIA complements Basler's portfolio of cost-optimized camera modules," said Gerrit Fischer, Head of Marketing Module Business at Basler. "With our embedded vision solutions for the full NVIDIA Jetson lineup, we provide the developer community with proven and reliable vision technology for every need. This offers great innovation potential for new vision-based applications."
"With the Basler vision kits for the Jetson Nano, developers get an integrated, easy to use solution for vision-based embedded applications in robotics, manufacturing and industrial IoT," said Murali Gopalakrishna, Head of Product Management for Autonomous Machines at NVIDIA. "Basler's ongoing support for the NVIDIA Jetson platform brings a wealth of experience in industrial cameras into our partner ecosystem."
NVIDIA Jetson is the leading AI-at-the-edge computing platform, with nearly half a million developers. With support for cloud-native technologies now available across the NVIDIA Jetson lineup, manufacturers of intelligent machines and developers of AI applications can build and deploy high-quality, software-defined features on embedded and edge devices targeting robotics, smart cities, healthcare, industrial IoT and more. Cloud-native support helps manufacturers and developers implement frequent improvements, improve accuracy, and use the latest features with Jetson-based AI edge devices.

The Basler Embedded Vision Development Kit and Add-on Camera Kits are available now at 299 € and 129 € respectively. A further Add-on Camera Kit for the recently released Jetson Xavier NX is under development; additional Camera Kits for Jetson TX2 and AGX Xavier will follow by Q3/2020. Basler is also developing an embedded vision system with access to cloud services based on a Jetson Nano due to its specific suitability for AI computing tasks on edge devices. This software solution, which extends Embedded Vision Development Kits with machine-learning application software, will also be available by Q3/2020.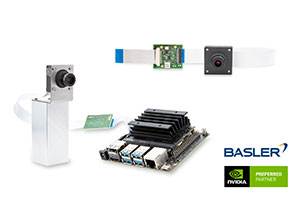 Basler, a leading global provider of embedded vision solutions, today announced its new Embedded Vision Development Kit and two Add-on Camera Kits powered by the NVIDIA® Jetson™ platform.
About Basler
Basler is a leading international manufacturer of high-quality imaging components for computer vision applications. In addition to classic area scan and line scan cameras, lenses, frame grabbers, light modules, 3D products, and software, the company offers embedded vision solutions, that comprise consulting services, customer specific software development as well as customized systems.
Basler's products are used in a variety of markets and applications, including factory automation, medical, logistics, retail, and robotics. They are characterized by high reliability, an excellent price/performance ratio, and long-term availability. Founded in 1988, the Basler Group employs around 800 people at its headquarters in Ahrensburg and other locations in Europe, Asia, and North America. Thanks to its worldwide sales and service organization and cooperation with renowned partners, it offers solutions that fit for customers from a wide range of sectors.
Embedded Vision
This content is part of the Embedded Vision curated collection. To learn more about Embedded Vision,
click here
.