Basler Expands Portfolio for NXP's i.MX 8 Processor Series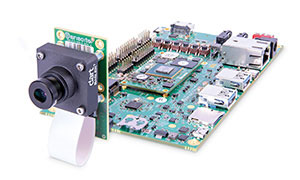 Ahrensburg – Camera manufacturer Basler expands its embedded vision solution portfolio with new development kits based on NXP's i.MX 8 processor series. The processors are characterized by longevity, robustness, low power consumption and scalability and are therefore ideally suited for embedded vision systems.
Basler's new development kits are developed in close cooperation with leading SoM manufacturers such as Congatec, eInfochips, SolidRun, Toradex and Variscite. The kits developed in this way cover a wide range of customer requirements. The development kits meet all requirements for ease of use: By integrating the camera drivers into the system software of the respective SoM manufacturers, the kits can be put into operation without programming effort. This enables customers to start the development of their embedded vision system directly with the development kits.
The wide range of possible combinations of processors, SoMs and sensors on the camera modules enable customers to find a tailor-made solution for their embedded vision system - no matter what processor performance or interface requirements they have.
"Through our close partnership with many of the leading SoM manufacturers, Basler has created a unique eco-system for embedded vision technology. The different kits feature perfectly matched hardware and software components, enabling Basler to offer every customer the easiest entry into the embedded vision world." says Gerrit Fischer, Basler's Head of Product Market Management. "Based on this, customers can generate customer-specific embedded vision solutions in cooperation with us."
In the first step, two development kits based on i.MX 8M and M Mini combined with a Basler dart 13 MP BCON for MIPI camera module, will be launched. The boards contained in it come from the partners eInfochips and Variscite. Based on the Thor96 board from eInfochips, the kit gives all 96Boards standard users access to a professional embedded vision development kit. The Variscite DART-MX8M-MINI based kit offers the full range of interfaces of the i.MX 8M Mini in an industrial design.
Further kits with other eco-system partners and even more processors from the i.MX 8 processor series will follow at the beginning of 2020.
About Basler
Basler is a leading manufacturer of high-quality cameras and camera accessories for industry, medicine, retail and a variety of other markets.
Basler uses its many years of experience in the field of embedded vision to create the optimal embedded vision solution for its customers. Basler offers a well-rounded portfolio including services such as consulting, development and production in addition to its camera modules, embedded vision kits and software solutions.
The Basler Group is home to approximately 800 employees at its headquarters in Ahrensburg, Germany, and at other locations in Europe, Asia and North America.
Embedded Vision
This content is part of the Embedded Vision curated collection. To learn more about Embedded Vision,
click here
.