Basler dart USB 3.0 cameras
rong>The camera series contains various models and mount variants as well as 100% conformity with the USB3 Vision Standard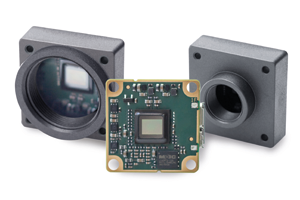 Camera manufacturer Basler will showcase their new "dart" board level camera series at the VISION Stuttgart trade show. Basler dart USB 3.0 cameras are among the few board level cameras at present that comply with the USB3 Vision Standard and can thus take full advantage of its secure data transfer and simple integration into image processing systems. The cameras start at 99€ and offer outstanding value for their price.

The first Basler dart models deliver 1.2 to 5 MP resolution and frame rates of up to 54 fps. More models are slated to follow next year. The cameras feature selected popular CMOS sensors from Aptina. The housing on the Basler dart leaves no desire unfulfilled: All models are available in three mount variants, namely the S-mount, CS-mount and bare board (without mount). The bare board variant measures just 27 x 27 mm at 5 g of weight, while the two mount versions are just 29 x 29 mm at 15 g of weight.

The cameras can be used in a variety of ways, from various classical industrial applications to non-industrial areas such as microscopy and traffic applications.

Basler at the VISION: Hall 1, Booth 1E42

Basler is a leading global manufacturer of digital cameras for industrial and video surveillance applications, medical devices, and traffic systems. Product designs are driven by industry requirements and offer easy integration, compact size, excellent image quality, and a very strong price/performance ratio. Founded in 1988, Basler has more than 25 years of experience in vision technologies. The company employs over 400 people at its headquarters in Ahrensburg, Germany, as well as in international subsidiaries and offices in the U.S., Singapore, Taiwan, Japan, and Korea.