Basler Beat Enters Series Production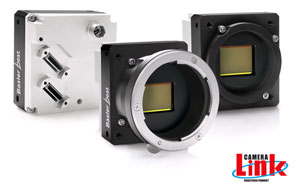 The Basler beat, our new area scan camera with the fast CMV12000 CMOS sensor from CMOSIS and 12 megapixels of resolution, will be available starting in July.
Ahrensburg – Starting in July 2015, the Basler beat will join the area scan camera portfolio of Basler, with both monochrome (beA4000-62km) and color (beA4000-62kc) models. The cameras feature 12 MP of resolution and the latest progressive scan and global shutter technology, all at an outstanding price/performance ratio.
The Basler beat cameras process 62 frames per second, with high throughput thanks to the Camera Link interface. Despite its high frame rates and resolutions, the Basler beat delivers outstanding image quality. Further, the cameras come in a compact, robust housing to ensure secure and simple integration and compatibility with a wide selection of reliable accessories.
The cameras are suited for all types of measurement and identification tasks. They are frequently used in the semi-conductor and electronics manufacturing fields. Thanks to its high resolution levels, the series is also suitable for use in traffic applications, including license plate recognition and multi-lane recording. In addition, the Basler beat can be used for medical and laboratory automation applications such as fluorescence microscopy.
Basler beat cameras are designed to meet industrial standards such as Camera Link and GenICam. Basler's free pylon Camera Software Suite is based on the GenICam standard and works with all models in the Basler beat series. The software suite provides quick access to all functions and optimal operation of the camera.
About Basler
Basler is a leading global manufacturer of digital cameras for industrial and video surveillance applications, medical devices, and traffic systems. Product designs are driven by industry requirements and offer easy integration, compact size, excellent image quality, and a very strong price/performance ratio. Founded in 1988, Basler has more than 25 years of experience in vision technologies. The company employs almost 500 people at its headquarters in Ahrensburg, Germany, as well as in international subsidiaries and offices in the U.S., Singapore, Taiwan, China, Japan, and Korea.
Company Contact
Nina Mang – Communications Specialist
Tel: +49 4102 463 432